Future Islands–You Make The Call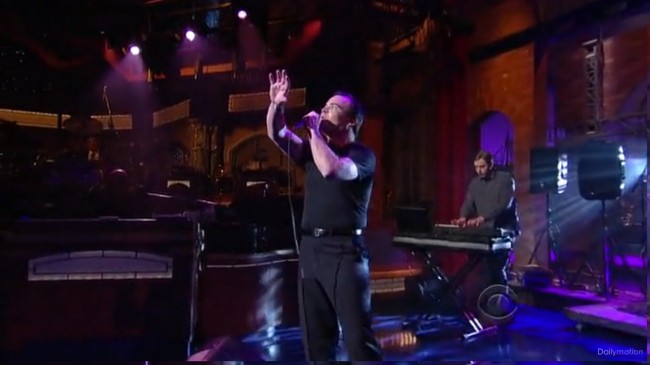 The music blogosphere has (again) jumped on the Future Islands bandwagon following their recent performance on the Letterman Show (see below).  We can't make up our minds about Future Islands and the musical merit thereof, and so we're reaching out to you for a straw vote.
On the plus side, Future Islands write some devouring ditties, and lead singer Samuel T. Herring certainly gives everything he's got on stage between his vocal gravel and grift, and prowling prance.  And he's been doing it for years.  We've seen the band a couple times, including before 100 or so fans at Muddy Waters here in Santa Barbara a few years back (when they were first atop that bandwagon).  Even in front of that small crowd, Herring strutted and raged maniacally throughout the band's set.  So A+ for effort.  And afterwards out on the sidewalk, Herring was the consummate gentleman, gracious and giving to fans.  We were taken aback though by Herring's recurring schizophrenic shifts (mid-songs) from croon to mania, and left scratching our heads about the genuineness and drive behind the band.
Fast forward a few years, and Future Islands is back with a new album Singles that is again garnering critical huzzahs.  And then they made their late night debut on Letterman, and that performance gained them repeated "best-ever-on-TV" raves.  So watch below, and let us know your thoughts 'cause we ain't thinkin' straight on the matter.  Is Herring's a performance that is forged from the heart and bared well via his unique delivery?  Or is it just that:  performance theater without genuineness to support the antics?  Does Herring strike you simply as one of those theater kids you couldn't stand in high school?  With his Jack-Black-does-Morrissey-impersonating-Marlon-Brando-in-On-The-Waterfront facade on Letterman drive you to drink or cause you to run to your digital emporium?
Three years later, we still can't make up our minds.  Watch below and make the call for yourself.