Listen to Shining New Sharon Van Etten Song "Every Time The Sun Comes Up" and Watch Her Sing in Her Apartment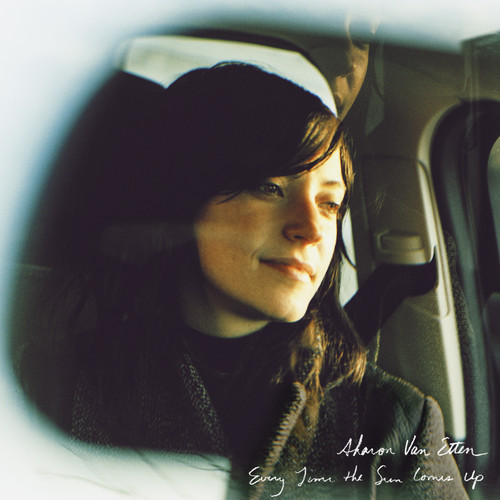 We've been falling all ourselves praising the first song (Taking Chances) released by Sharon Van Etten off of her impending album, Are We There, (coming on May 27th on Jagjaguwar)  and the official video therefor.
Today Van Etten released another portentous song off the album, Every Time The Sun Comes Up. We love it in all its emotional honesty and humor.  Van Etten had this to say about the new song to The New York Times:
"On a lark, she'd played her band a demo of her singing the chorus. Van Etten didn't think much of the song, a wry, country-inflected sing-along, but "at that time of day when we'd already spent eight hours in the studio and I'd checked in with everybody, asking, 'Are you really tired, don't you want to go home,' everyone kept saying, 'Let's go back to that song,' I was like, 'Have you lost your mind?'" She lets out a long laugh. "I ended up just narrating," she says. "I'm doing the vocals inside the control room while they play in the studio itself, and just pointing at people. Each verse is about someone else in that room. And everyone was laughing and saying, 'you have to keep those lyrics.'"
Check it out below and pre-order the new album in vinyl and CD formats HERE or digitally HERE, HERE, and at your local record store.  The tracklist and SVE's impending tour dates are at bottom.
In addition, The New Yorker will soon release an article on Van Etten, and after the new song you can watch SVE singing yet another new song and being interviewed in her West Village NYC apartment.
Are We There:
1 Afraid of Nothing
2 Taking Chances
3 Your Love Is Killing Me
4 Our Love
5 Tarifa
6 I Love You But I'm Lost
7 You Know Me Well
8 Break Me
9 Nothing Will Change
10 I Know
11 Every Time the Sun Comes Up
Tour Dates:
Thu. May 8 – Northampton, MA @ Iron Horse Music Hall
Fri. May 9 – Hudson, NY @ Helsinki Hudson
Sat. May 10 – Providence, RI @ Columbus Theatre
Sun. May 11 – Hamden, CT @ Ballroom at the Outer Space
Sun. May 25 – Brussels, BE @ Botanique Grand Salon (Nuits Botanique)
Wed. May 28 – Paris, FR @ Café de la Danse
Fri. May 30 – Barcelona, ES @ Primavera Sound
Sun. June 1 – Koln, DE @ Studio 672
Mon. June 2 – Berlin, DE @ Privatclub
Tue. June 3 – Amsterdam, NL @ Bitterzoet
Thu. June 5 – London, UK @ KOKO
Wed. June 11 – Boston, MA @ Sinclair
Thu. June 12 – Brooklyn, NY @ Music Hall at Williamsburg (Northside Festival)
Fri. June 13 – New York, NY @ Bowery Ballroom
Sat. June 14 – New York, NY @ Bowery Ballroom
Tue. June 17 – Washington, DC @ 9:30 Club
Wed. June 18 – Philadelphia, PA @ Union Transfer
Thu. June 19 – Millvale, PA @ Mr. Small's
Fri. June 20 – Cleveland, OH @ Beachland Ballroom
Sat. June 21 – Nashville, TN @ Exit In
Tue. June 24 – Denver, CO @ Bluebird Theater
Wed. June 25 – Salt Lake City, UT @ Urban Lounge
Sat. June 28 – Los Angeles, CA @ El Rey Theatre
Sun. June 29 – San Francisco, CA @ The Independent
Mon. June 30 – San Francisco, CA @ The Independent
Wed. July 2 – Portland, OR @ Doug Fir
Thu. July 3 – Portland, OR @ Doug Fir
Sat. July 5 – George, WA @ Sasquatch Festival
Sun. July 6 – Vancouver, BC @ Rickshaw Theatre
Tue. July 8 – Calgary, AB @ Republik
Wed. July 9 – Edmonton, AB @ Starlite Room
Mon. July 14 – Fargo, ND @ Aquarium
Wed. July 16 – Minneapolis, MN @ First Avenue
Thu. July 17 – Madison, WI @ University of Wisconsin
Fri. July 18 – Chicago, IL @ Pitchfork Music Festival