Watch Conor Oberst Perform New Song "Common Knowledge" Solo and Stream New Album "Upside Down Mountain"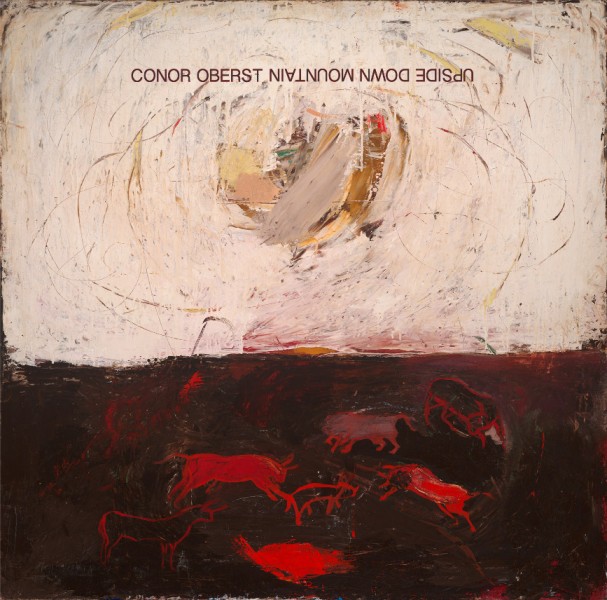 It's common knowledge that we would climb the steepest mountains (upside down or not) to listen to Conor Oberst sing his songs.   Whether as a part of Bright Eyes, Desaparecidos, Monsters of Folk or solo (backed by the Mystic Valley Band, The Felice Brothers, or–as now–Dawes), he spares no passion or energy in delivering his songs live.  His songs can melt or seethe you, in large part because Oberst is one of this country's best songwriters (lyricists in particular).  He's written many of the most powerful song cannons in the canon (you pick 'em, but we'll take Lua or Poison Ivy at No. 1).  The great news for Oberst fans is that he will release a superb new album entitled Upside Down Mountain on Nonesuch on May 19th.  We have listened to it several times (full review to come) and, as you might imagine, it evinces maturity and wisdom while assaying life's stages (not surprising given he's 34, a prime life-assessment era) and transitioning through.  It's intimate and poetic and features some of our favorites, including Blake Mills and First Aid Kit, in addition to a turn or two from frequent collaborators Mike Mogis and Nathan Walcott.  To top it off the album's art work, including the cover painting, is by Ian Felice of the fabulous Felice Brothers (who have a new album Favorite Waitress out soon).
You can stream Upside Down Mountain over at NPR HERE.  And then go pre-order it HERE.
Oberst is now out on tour in support of the album and backed by Dawes, and you can see the dates and get your tickets HERE.
And finally, watch below as Oberst performs the last song off of the new album, Common Knowledge, for The Line of Best Fit.  It's another gem and somewhat Lua-esque. The songs lyrics are at bottom.
Common Knowledge:
"He's my friend, but he's no friend to me
Ask him why, he'll tell you casually
Washed up, bitter, broken, busted
Backstabbed anyone he trusted
Says he sees what no one else can see
If I had half his guts I'd want it
To chase that fatalistic comet
And die young in the dark, that's poetry
But it was not to be
It was not for me
He's always sad, but I've never seen him cry
When he comes too sure, he'll apologize
Find his car, assess the damage
Still drunk but he likes a challenge
Holds onto his mind just like a kite
But a good strong wind will keep you honest
Fill you with some common knowledge
Things when we were young we never tried
Just figured we had time
With such a long life
Money clips, alligator shoes
One more dance, he's in that champagne room
Where she moves like a chocolate fountain
Pouring, spilling all around him
Makes him wonder what else she could do
How bittersweet is love's illusion
Feelings that cannot be proven
Trust me, you'll see my aim is true
I've done this all for you
I suffered long for you
So many times he's tried to play it straight
Worked and worked until his body ached
But a brand new life can lose its luster
Troubles tend to find each other
Call it luck or you can call it fate
But either way it's how it happens
Not the way that you imagined
Or just go out with a bang like Hemingway
Some will say you're brave
Some will say you ain't"