Watch Counting Crows on Seth Meyers As They Reiterate Why They Were (And Still Are) Worthy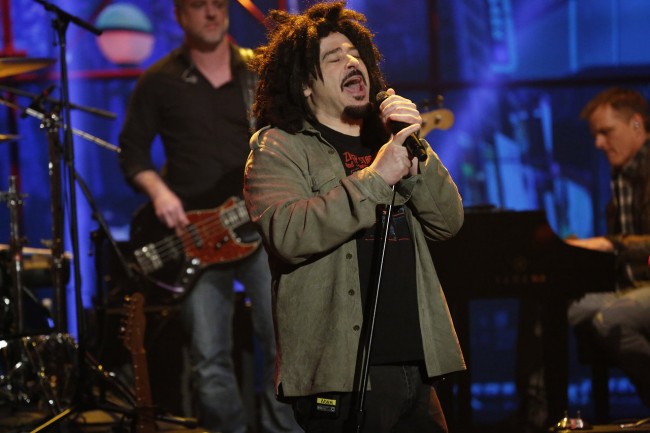 As music lovers become older, there lurks an assessment and reckoning that we all must partake in if we want to be honest about our musical history.  Simply put, every generation tends to grow up believing that the music of its generation is the greatest.  But it's good to reevaluate and take an honest look back.  Hopefully, as listeners we've continued to evolve musically and can at some point objectively assess the worth of what went down musically in our adolescent/young-adult days.  And in retrospect, while some will forever stand the test of time (Hank Williams, Gram Parsons, Neil Young, Joni Mitchell, The Band, etc.), those with objectivity might admit that their musical heroes weren't really worthy of their adulation (hello Boston, Aerosmith, and Kiss fans!).
Such was our mindset when we began to catch wind of a resurgence in popularity and notoriety of the Counting Crows.  We recall fondly the halcyon days for the Counting Crows as they grew up in our Berkeley backyard and we caught them in small local venues in the SF East Bay at a time when we knew we wouldn't be able to keep the masses at bay.  Following the release of their first album in 1993, August and Everything After, that was no longer possible.  They became very popular (horrors!), in part because of their rousing live performances, but also because of their great songwriting and recordings.   Nonetheless, as stated above, two decades later one should still question the worth of the artists that we adored.
We've looked around a bit, and to their credit, the Counting Crows still hold up well following reassessment.  Of course they've aged and also haven't recently written or recorded new songs on par with their earlier material (they have apparently recently signed to Capitol Records and will release a new album, tentatively titled Somewhere Under Wonderland, later this year–so will have something new to assess).   As proof of their continued merit, check out below this week's performance Late Night with Seth Meyers of one of their defining songs, Round Here.  Meyers also interviews band leader, Duritz (Sideshow Bob?), who comes across as a likable, humorous, and somewhat quirky chap.  Watch the band's performance in which Duritz delivers one of their great songs, Round Here, with aplomb and reasserts their historical worth.  Amongst other things, Duritz was always a gifted lyricist.  But in the Late Night performance he delivers every syllable of the song perfectly, with emphases soundly placed and emotion properly drawn from the song's lyrics.  While some of their other songs may not stand up as well, Round Here roundly stands the test of time.  Check it out.  After, watch Meyers' interview segments with Duritz.  The song's ever-relevant lyrics (as updated, mostly, from the performance) are at bottom.
The band kicks off its tour next month, and you can check out the dates HERE.
Round Here:
"Step out the front door like a ghost
into the fog where no one notices
the contrast of white on white.
And in between the moon and you
the angels get a better view
of the crumbling difference between wrong and right.
I walk in the air between the rain
through myself and back again
Where? I don't know.
Maria says she's dying
through the door I hear her crying
Why? I don't know.
[Chorus:]
Round here we always stand up straight
Round here something radiates
Maria came from Nashville with a suitcase in her hand
she said she'd like to meet a boy who looks like Elvis
she walks along the edge of where the ocean meets the land
just like she's walking on a wire in the circus
she parks her car outside of my house
takes all her clothes off
says she's close to understanding Jesus
she knows she's more than just a little misunderstood
she has trouble acting normal when she's nervous
[Chorus:]
Round here we're carving out our names
Round her, hey man,  we all look the same
Round here we talk just like lions
But we sacrifice like lambs
Round here she's slipping through my hands
Sleeping children better run like the wind
out of the lightning dream
Mama's little baby better get herself in
out of the lightning
She says It's only in my head
She says shhhh….I know it's only in my head
But the girl on car in the parking lot
says "Man, come on, you should try to take a shot
can't you see my walls are crumbling?"
Then she looks up at the building
and says she's thinking of jumping
She says she's tired of life
well everybody's tired of something
[Chorus:]
Round here she's always on my mind
Round here hey man got lots of time
Round here we're never sent to bed early
And nobody makes us wait
Round here we stay up very, very, very, very, very late.
I can't see nothin', nothin', round here.
No, you catch me when I'm fallin'.
You catch me if I'm fallin'.
You catch me if I'm falling down on you.
Oh man I said " I'm under the gun…"
Round here.
Oh man I said "I'm under the gun…"
Round here.
And I can't see nothin', nothin'.
Round here."