Live Review–Guided By Voices at Fonda Theater on Friday The 13th.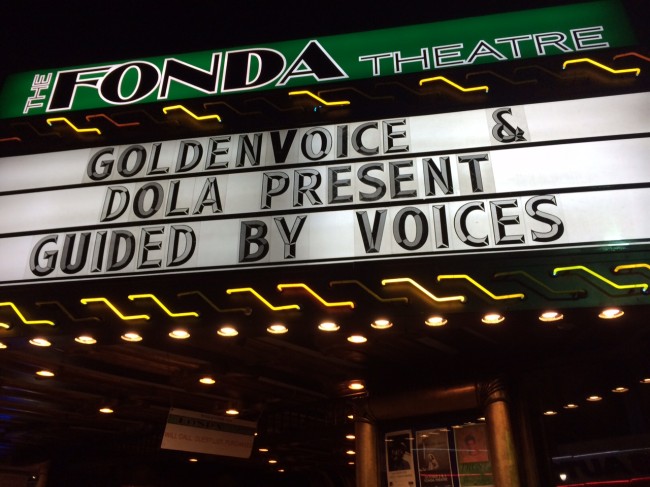 We've been fans of Guided By Voices since the day we first heard their breakthrough, Desert Island album Bee Thousand in 1994.  And then we caught GBV live in April 1995 at the Great American Music Hall in San Francisco while they were out on the Alien Lanes tour.  We've been hopeless devotees of the band ever since (though we will admit to wilting somewhat under the weight and girth of GBV's and leader Robert Pollard's prolific recorded output).  In 1995, they powered and swaggered through a lo-fi, anthem-riddled setlist while hammering big bottles of booze and chain-smoking away.  Straight outta Dayton.  The band (Pollard, Tobin Sprout, Mitch Mitchell and Greg Demos at the core) had the crowd completely enamored with Pollard's high-kicks, leaps, and Daltrey-esque mic-swings, Mitch Mitchell's guitar-windmilling and chain-smoking, bassist Greg Demos' outfits and plowing bass, and 33 songs (all between 60 and 120 seconds long).  It was so powerful a performance that it caused us to forget until recently that Elliot Smith(!) was one of the openers that night.  The next year in 1996 at the GAMH, Spoon opened for GBV, on the Under The Bushes Under The Stars tour, and the band solidified its rightful place in our top live-bands-of-all-time echelon.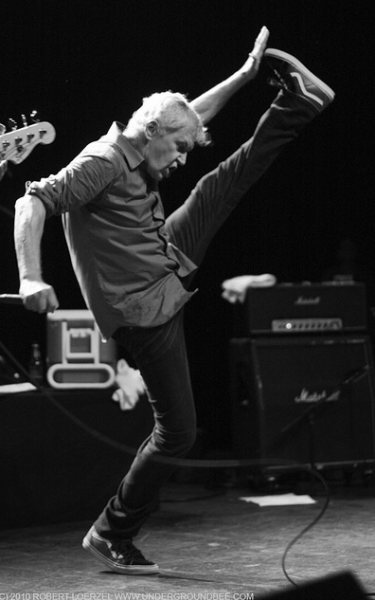 Fast forward through partial and complete breakups (in 2004), solo albums, and label-squabbles to their 2010 reunion and the band releasing six (!) new albums in the last 2-1/2 years.  Having not seen them since 1996, when we heard the band was at last headed to California and a show at the Fonda Theater last Friday the 13th, we couldn't wait to catch 'em again.  In short, at the Fonda GBV once again restored our faith in rock 'n roll and powered through 48 songs (like almost every night of this tour–see the setlist at bottom).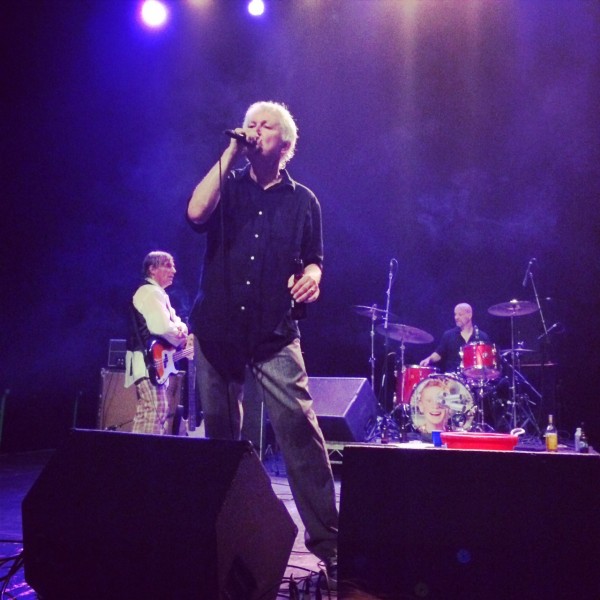 Thankfully, in many ways not much has changed since those San Francisco shows.  Yes, the band's members have aged over those 20 years, but at the Fonda Pollard still had the high-kicks, leaps, stage-spits and mic-twirls, Mitchell still chain-smoked throughout while hitting the Cuervo bottles and beers hard with Pollard, Greg Demos (with his signature attire and heart-attack-level effort) and Kevin March passionately played and mouthed the words to the songs as if they were their own, and Tobin Sprout still added his seriously underrated guitar, songs and vocals to the mix.  What has changed these days is the band's generation-spanning, mosh-happy audience.  There were tons of twentysomethings to mix with back-in-the-day fans and mosh and sing at the top of their lungs.  It was a joyous, heartwarming atmosphere.
As for the music itself, in the first third of the set GBV rightfully concentrated on their two most recent albums, last year's fantastic Motivational Jumpsuit and the impressive, just-released Cool Planet.  Pollard urged the crowd to really jump onto the new songs cause "they're big hits!"  And he isn't wrong.  Many of the songs from their last four albums should, in a better world, be "big hits," such as the well-delivered Littlest League Possible, Pan Swimmer, Planet Score, Vote For Me Dummy, Xeno Pariah and Record Level Love (minor squabble: where were two of the best new songs Islands (She Talks in Rainbows) and Save The Company?).  As great as the new songs are, it took the old "hits" to fully-ignite the age-spanning crowd.  And ignite they did on Buzzards and Dreadful Crows and Gold Star For Robot Boy, though there wasn't a complete crowd-conflagration until the band fired up fan-favorite Tractor Rape Chain.  The singalong stimulants during the set were Teenage FBI, Goldheart Mountaintop Queen Directory, I Am a Scientist, Game of Pricks, Motor Away and night-closer A Salty Salute.  Other highlights were several spare ballads (14 Cheerleader Coldfront) on which Pollard and Sprout supplied their surprisingly deft harmony vocals.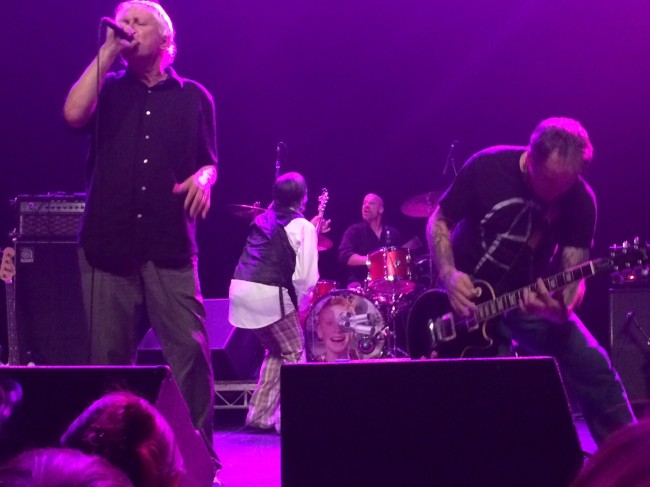 Throughout the night Pollard was effusive about LA ("this great city"), and flipped, caught and handed out multiple beers to the audience from his magic bucket while calling the generation-spanning crowd "kids."  Pollard also assayed the band's early albums and provided his (many) opinions on various record labels (Matador the only one that received Pollard-praise and went unscathed).  By night's end Pollard might have slurred a word or two, but it didn't affect his singing, stage antics or high-kicks.
Regardless, the show was yet another phenomenal showing from this never-say-die band.   Make sure you pick up their recent albums HERE and catch them the next time they come to town (they remaining dates of their tour are listed below the setlist).
Long live Guided By Voices!
Setlist:
Planet Score
Hat of Flames
Authoritarian Zoo
Pan Swimmer
Alex and the Omegas
Buzzards and Dreadful Crows
Psychotic Crush
A Bird with No Name
Wished I Was a Giant
Littlest League Possible
Gold Star for Robot Boy
Fast Crawl
Xeno Pariah
Vote for Me Dummy
Record Level Love
Ester's Day
Fair Touching
These Dooms
Table at Fool's Tooth
Tractor Rape Chain
The Head
Zero Elasticity
The Challenge Is Much More
He Rises! Our Union Bellboy
Echos Myron
All American Boy
Teenage FBI
You Get Every Game
Spiderfighter
Males of Wormwood Mars
Cut-Out Witch
Goldheart Mountaintop Queen Directory
No Transmission
Cool Planet
I Am A Scientist
Game of Pricks
First Encore:
How I Met My Mother
Shocker in Gloomtown
Awful Bliss
Unleashed! The Large Hearted Boy
Motor Away
Second Encore (Pollard:  "If it's OK with you, how about we just skip that leaving the stage and coming back for the third encore part?"):
A Good Flying Bird
14 Cheerleader Coldfront
Pimple Zoo
Smothered in Hugs
Quality of Armor
Exit Flagger
A Salty Salute
Tour Dates:
6.20.14 Madison, WI – Barrymore Theatre *
6.21.14 Chicago, IL – Green Music Festival
6.22.14 Minneapolis, MN – Rock The Garden @ Walker Arts Center &
7.10.14 New Haven, CT – Toad's Place@
7.11.14 New York, NY – Irving Plaza #
7.12.14 Boston, MA – Paradise Rock Club #
8.22.14 Huntington, NY – Paramount Theater %
8.23.14 Asbury Park, NJ – Stone Pony %
11.7.14 – 11.9.14 Austin, TX – Fun Fun Fun Fest
* with Bobby Bare, Jr.
& with Spoon & Kurt Vile
# with Crystal Stilts
@ with Speedy Ortiz
% with Boogarins
Color photos: courtesy of Bill Cuttler