On Sunday: Watch Damien Jurado and Choir Perform "Metallic Cloud" Unplugged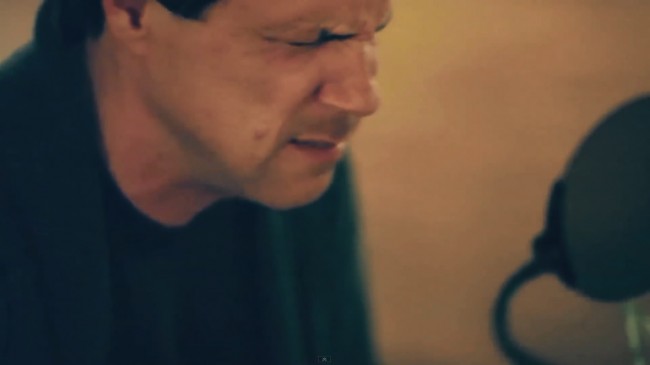 "Here's a temporary earth,
In case you don't get out."
One of our favorite singer-songwriters, Damien Jurado, continues to enthrall with his spiritual music-adventures.  This year's Brothers And Sisters Of The Eternal Son album (Secretly Canadian) is the latest in a string of stunningly good Jurado albums produced by the vaunted Richard Swift.  While we love many of the songs off of Brothers and Sisters, the kitchen-sink-and-beyond production overwhelmed us (and many of the songs).  Thankfully, Jurado has hence provided multiple vantages of the Brothers and Sisters songs performed unplugged and comparatively unadorned.  Such is the case below in the Ballard Sessions video in which Jurado and surrounding throng movingly perform Metallic Cloud.  Temporary.  Got it.
Metallic Cloud
Here's a temporary fix,
In case you don't come down.
Metallic cloud,
Voice in the crowd.
Cheer yourself up,
There are three to be seen,
Geodesic eyes,
And your life on rewind.
Your name was on fire,
So we pulled the case.
How does it taste?
With your mouth from your face.
Here's a temporary earth,
In case you don't get out.
Melodic rain,
Your own choke chain.
Drove yourself here,
So you might as well stay.
You want to be amazed,
And see the sky on delay.
Keep a close eye,
For the ship in the sky.
Resurrection signs,
Do the numbers align?
Zodiac pain,
And the birds flew away,
Colours don't change,
When your life gets strange.