Watch Sharon Van Etten's "Our Love" Video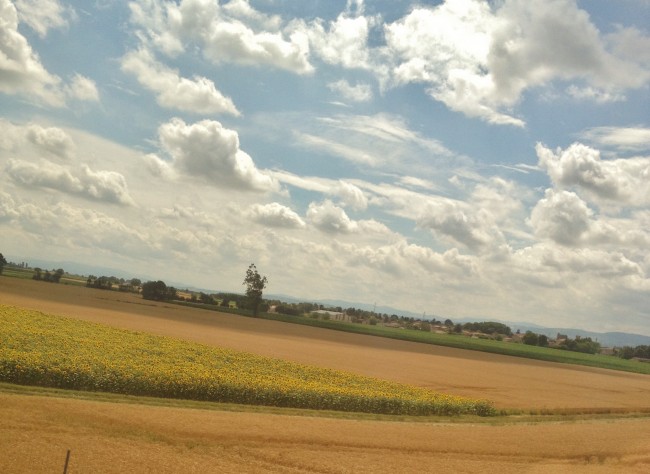 Speaking of Sharon Van Etten…. On our recent hiatus, we realized we had let ten music-less days slip by.  Unimaginable.  And we hadn't missed it at all.  But with the omnipresent Kanye, Iggy, bla, bla, bla, of the music blogosphere, it's not hard to grasp the cumulative effect on the ears and the need for a music fast.  At the end of that 10-day period, however, we hopped a TGV north and, to help pass the kilometers, we threw on the headphones.  Sharon Van Etten randomly came on, and we were immediately transported by the songs on her phenomenal recent album, Are We There (easily one of the Best Albums of 2014).
Only then did we again recall the import of great music in our lives, especially where soundtrack and life coalesce and enhance each other.  Sitting with the ones we love (sur la vitesse), as the sunflowers, lavender and white-cow clusters blurred by, Van Etten sang (on Our Love) "I'm a sinner and I have sinned…it's our love, it's our love, it's our love, it's our love," all to a warped melodic slant on The Lion Sleeps Tonight "weem-o-way" chorus (to our ears anyway).  Somehow our TGV mise-en-scène was enhanced greatly by the SVE soundtrack.  Each takes his own.
Coincidentally, Van Etten has today released the official video for Our Love, which you can watch below.  As conducted by Karen Collins, the video is…well…lovely.  Though we regretfully missed her recent California shows, Van Etten remains on tour and the remaining dates (through December) can be found HERE.