Watch Spoon On Fallon's Tonight Show, Including Superb Web-Only Performance of "Inside Out"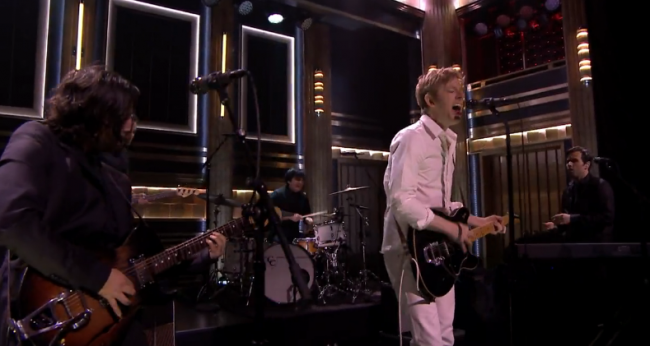 While we were attending Arcade Fire's Santa Barbara Bowl show last night (more on that later), the splendid Spoon was appearing on The Tonight Show (for fortunate San Diegans, Spoon will open tonight for Arcade Fire in SD).  The band today released it's fantastic new album They Want My Soul.  Watch below as Spoon performs their single Do You (which  reminds of Broken Social Scene, and especially on the recording–high praise from these parts).  And Britt Daniels gets his snarl on.  Thankfully.
Update:  The Tonight Show has now released a clear highlight from the show as a web-exclusive.  Watch as Britt Daniels and Eric Harvey sit back-to-back on a piano bench and give an intimate and moving performance of the outstanding Inside Out off the new album.  A great new song from Daniels and the boys.
Spoon is out on tour now in California and beyond.  Go there HERE.