Listen To Leonard Cohen Poetically Preaching on New Song "Almost Like the Blues"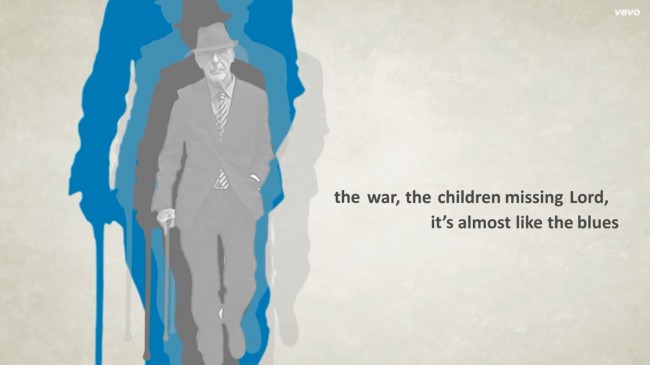 A highway of ink and a constellation of pixels have justly been spilled on the songwriting of Leonard Cohen. We've been transfixed by Cohen's songs since we first set our ears on his debut album Songs of Leonard Cohen (released in 1967).  We don't have the time or the energy to do Cohen's songs justice right now (for example, he long-ago wrote one of the greatest songs of our lives–Hallelujah).
Instead will give you the official lyric video for the first song released from the 80 year-old's imminent new album Popular Problems.  We confess we were somewhat skeptical when we first heard of the upcoming album, but listen below on Almost Like The Blues as Cohen paints a restrained masterpiece that tells of the horrors and redemption of modern man, with piano, horn and bongo-accompanied jazz-inflections.  With Boko Haram, Syria and Richard Dawkins shadings, it's almost like the blues.  We can't wait for the new album.  Long live Leonard!