At Long Last Jamie T. Returns–Watch Performances of Songs From Fantastic New Album "Carry On The Grudge"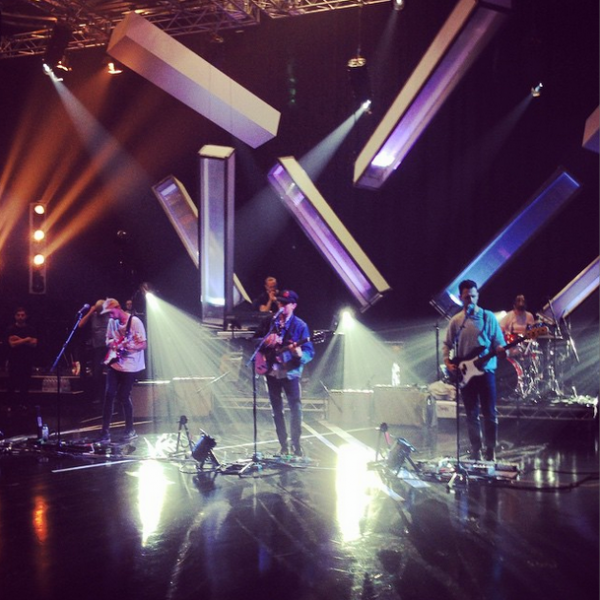 For the last four-plus years, we and the rest of his ardent fans sat by and waited for one of our all-time favorites, Jamie T., to work through his personal slings and demons, and return to stage and studio.  Finally, Jamie T(reays)  is back and has delivered one of the Best Albums of 2014, Carry On The Grudge (0n Epitaph Records in the US).
Jamie T. (from Wimbledon–"T" as in tennis? We kid.) effectively disappeared in 2010 after delivering two of our favorite albums of the last decade, 2007's Panic Prevention and 2009's Kings & Queens.  When those albums were released we were head over heels for the unique, shambolic-but-effective mix of punk, ska, rap, and dub to go with clever, motormouthed tales of misbehaving mates, drinks, drugs, and death, all replete with stirring character studies.  It was a heady mix that helped us fill a massive void in the post-Clash, post-Strummer era (watch below as he channels Strummer through his left leg).  We were astounded when Jamie T. never made much headway with American music fans, but then again we're constantly amazed by the moments of blindness.
Here's to hoping that Carry On The Grudge changes all that.  The album carries a more mature vernacular filled with personal loss and lived-in-stories to go with a mostly-slowed and more-sung delivery (though to be fair, he exhibited the same before on favorite Emily's Heart).  Predictably, some of the most affecting tracks are the slower numbers such as the stirring Don't You Find, They Told Me It Rained (with its ending homage to Madness, amongst others), Limits Lie, Love Is Only a Heartbeat Away, Murder of Crows and Turn On The Light.  One thing that hasn't changed is Jamie's way with melodies, which here uniformly rival those of his mentor, Damon Albarn (the highest possible praise from these quarters).  Thankfully, there are plenty of uptempo tracks to balance matters, including the rambunctious Zombie, the self-immolating Peter, the decidedly nostalgic (Clash-esque with Tom Tom Club overtones) Trouble and Rabbit Hole.  Let's face facts:  there's not a bad song on this album, and quite to the contrary.  We can't stop listening to the ravishing Carry On the Grudge.  Go get it HERE.
Coincidentally, Jamie T. recently appeared on Later with Jools Holland, and after viewing the performances we were all-in on Jamie T. and in quest of catching him live.  Watch below as Jamie and his superb band (the drummer!) slay Peter and They Told Me it Rained (unfortunately, their riveting performance of Zombie remains un-viewable in the US thanks to ongoing bizarre BBC policies–hey, it was ONLY a Tea Party ya teabaggers!).  We had forgotten that in addition to all of the foregoing accolades, Jamie is a virulent calist to boot.  After the Jools performances, watch a few more vignettes of this fine artist (including Zombie and Don't You Find–and at bottom watch the song sung by 6,000 fans at the Reading Festival).  Most of his European tour is sold out or getting there, but he is coming to the US to play a whopping five (5!) shows and, bizarrely, tickets still remain.  One such show is at the Roxy in LA on December 3rd.  Whatever you do, don't you miss it.  Get your tickets for the tour (including Australia) HERE and HERE for the Roxy.  If you don't, you'll carry on the grudge forever.