Watch Blood Orange Make Network TV Debut on Jimmy Kimmel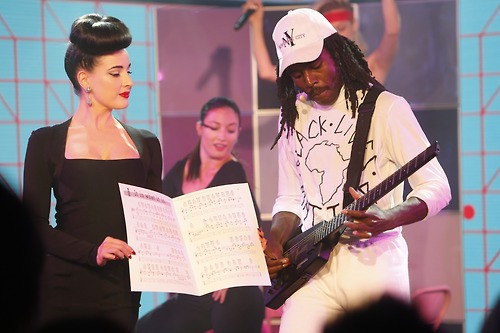 Blood Orange (Dev Hynes) made his network TV debut this week on the Jimmy Kimmel Show.  Hynes is the ensemble's fantastic, multitalented (producer, composer, vocalist and shredding guitar player) mastermind, and he chose to add girlfriend Samantha Urbani and some dancers to deliver a rousing performance of It Is What It Is from Blood Orange's tremendous 2013 album Cupid Deluxe.
Hynes had this to say about the performance:  "I remember making this song in my bedroom, jankily recording every single part & instrument myself as I usually do, while sitting on my bed at 4am, it's strange and amazing what can happen in a year…." Check the performance out below.
Afterwards watch Hynes perform solo his hypnotic paean to love, Time Will Tell, even venturing out into the audience during the song.  Suffice it to say, Hynes is hardly inhibited.  Entertaining stuff!