Another Vantage: Enter Esmé Patterson's World With Her Official Video for "The Glow"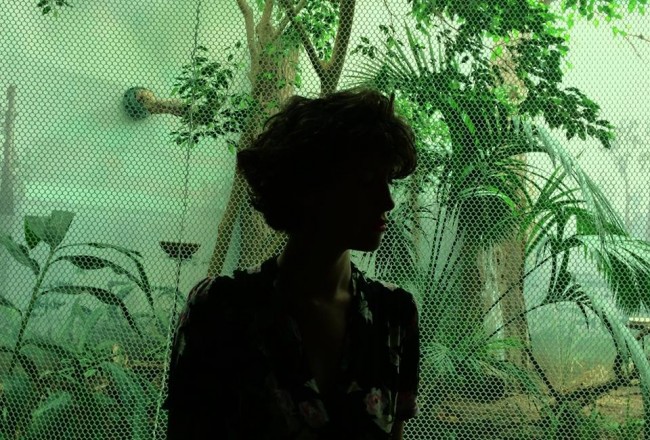 We'd been hearing repeated raves from reliable sources about the alt-country band Shakey Graves, but were gravely shaken not to immediately connect with them upon listening.  Over time, however, a few of their songs finally sank in to our ears.  What we came to realize, though, was that it was their songs that included collaborator Esmé Patterson that were really making their mark on us.  Her strong vocals and harmonies featured on songs/performances such as the ensemble's Big Time Nashville Star and Dearly Departed (which you can watch/listen to way below) drew us in more than the comparatively straight-forward deliveries by the core band to which she had been added.
The more we delved into Ms. Patterson (formerly of Paperbird), the better we grasped the reasons for her allure.  She's a whip-smart singer-songwriter who can write, sing and play in all fields, at times sounding like Neko Case and at others like Joni Mitchell.  Last week Patterson impressed further when she released the official video for The Glow (off her critically-acclaimed recent album Woman To Woman).  In so doing she has added acting to her considerable list of skills.  Watch below as Patterson gives a convincing, nuanced performance on screen of the song, which tells Caroline No's story from Caroline's perspective (all the songs off the new album tell the woman's side of the story found in famous songs by The Beatles, Leadbelly, The Band and Townes Van Zandt in addition to the Beach Boys).  Check the video out below, and then check out the lyrics to Caroline No to connect "the glow."
Afterwards, listen to Patterson's three-song Tedx Talks session for some more Woman To Woman samples, followed by the referenced Shakey Graves songs at bottom.
Keep your eyes and ears out for Esmé Patterson.
Caroline No:
"Where did your long hair go
Where is the girl I used to know
How could you lose that happy glow
Oh, Caroline no
Who took that look away
I remember how you used to say
You'd never change, but that's not true
Oh, Caroline you
Break my heart
I want to go and cry
It's so sad to watch a sweet thing die
Oh, Caroline why
Could I ever find in you again
Things that made me love you so much then
Could we ever bring 'em back once they have gone
Oh, Caroline no"
TedX Talks Session:
With Shakey Graves:
On Conan Performing Dearly Departed:
Performing Big Time Nashville Star: