Watch Jenny Lewis and Ryan Adams on Jimmy Kimmel Live and at The Wiltern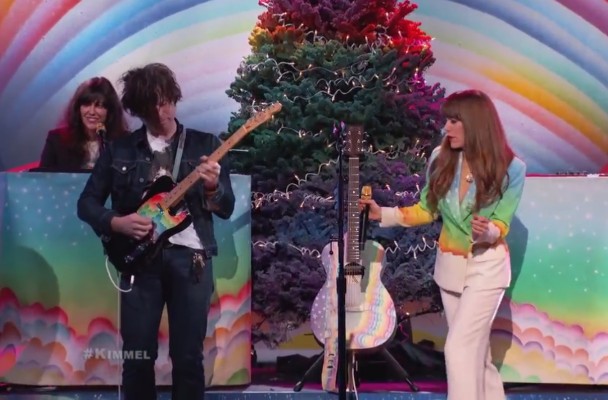 Colbert wrapped up his Report last night with a massive, star-studded singalong, and the Foo Fighters took over Letterman, so it would have been easy to miss the great Jenny Lewis backed by pal Ryan Adams on Jimmy Kimmel Live.  Adams co-produced Lewis's pop-masterpiece, The Voyager, which will appear high up on our list of the Best Albums of 2014.  Adams has recently joined Lewis for some dates on her tour (and on Wednesday at Adams' concert at the Wiltern he covered She's Not Me and had Lewis join him on Oh My Sweet Carolina and Come Pick Me Up).  See the latter at bottom–beauty right there.
Check out below the two sterling performances of She's Not Me and Just One of The Guys below by Lewis and ensemble.  Lewis is in fine vocal form, her band is in sync and Adams has some nice guitar flourishes to lend (particularly on the former).  By the way, can we all finally agree that those inflatable balls have got to be banned from concerts?  Are you there to get lost in the music or pretend you are seven years old and its your birthday party?  Please, no mas.