Watch/Listen to Tad Wagner's Outstanding New Song "Coney Island" From Impending Solo Album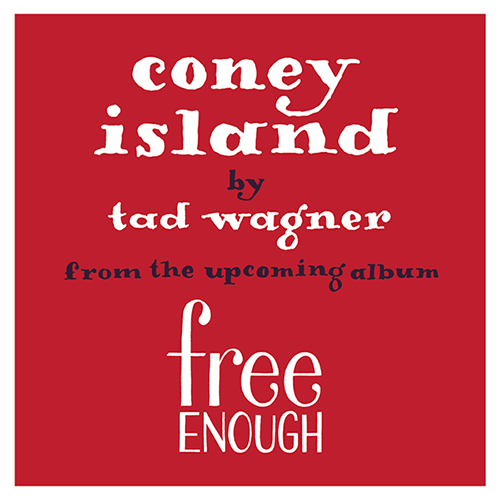 Yesterday one of our favorite artists, Tad Wagner, relinquished a great new song and video from his forthcoming solo album, Free Enough.  A long-time member of the talented, sly band Buellton, Wagner has released the mesmerizing song and hand-lettered lyric video for a new song from the album entitled Coney Island.
We have waited a long time to feel the full gravitational pull of Mr. Wagner's artistry, and it was well worth the wait.  As you'll hear below, the song sucks you in immediately with its metronomic, piano-laced jangle and sonorous vocals.  Wagner's lyrics here are appropriately oblique, but the gestalt is of tumult and loss ("The rain let up, I don't want to go home," "Who is it now, I don't want to know," and "Don't want to let you go").  But then with the new instrumental  interlude at 3:19 and the green light in the video, we sense relief and movement beyond the tumult.  The windshield's wiped clean from the watery force majeure, and we move on with sweet harmonies to pave the way.  That's life, we hope.  The song's a beauty, and we can't wait for the full album.
Sign up for Wagner's newsletter HERE to receive musical missives along with hand-letterings, art and other fine fettle from Wagner.