Review, Photos and Videos: Sufjan Stevens and Helado Negro at Dorothy Chandler Pavilion June 3rd-4th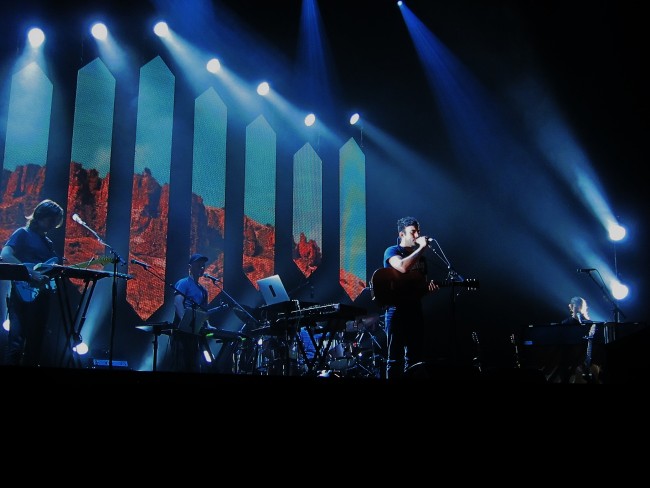 It's said that good can come from any bad.  In the wake of his mother's (Carrie's) passing, Sufjan Stevens has affirmed this adage with his masterful album Carrie & Lowell.  Adding to the album, Stevens deftly drove this point home last week in LA with consecutive astonishingly-good and heart-stirring performances at the Dorothy Chandler Pavilion.  It had been nearly three years since Stevens last traipsed through these parts (for his wondrous "Wheel of Christmas" holiday-party at the Fonda) and five years since his Age of Adz tour de force, and so we were determined to catch both nights of his local stand.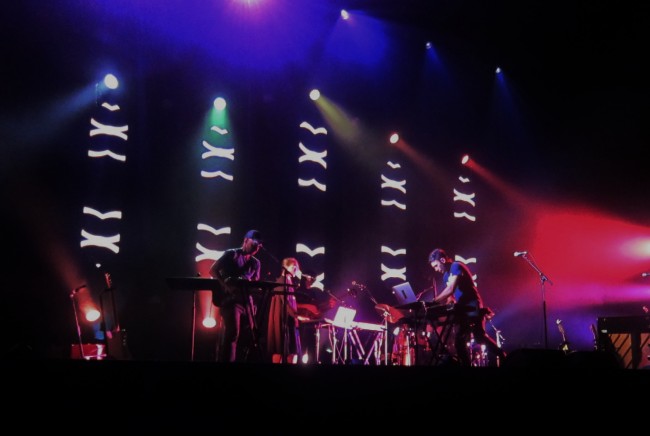 Though his live shows bear the weight of the new album and its devastating themes, the performances are also musically magnificent and dynamic, varying from delicate Simon & Garfunkel/Nick Drake sounds to the massive, end-times bombast of Blue Bucket of Gold.  During the first half of the shows, Stevens killed us softly by performing nearly the entirety of the crestfallen-yet-cathartic Carrie & Lowell (though re-sequenced for his tour).  Though the album's songs are generally quiet affairs (lending a feeling of intimacy at the Pavilion despite the grand surroundings), the pin-drop crowds were kept on the edge their seats by Stevens' evocative vocals, deft playing and additive arrangements, coupled with the gifted support of multi-instrumentalists Ben Lanz, Casey Foubert, Dawn Landes, and James McAlister.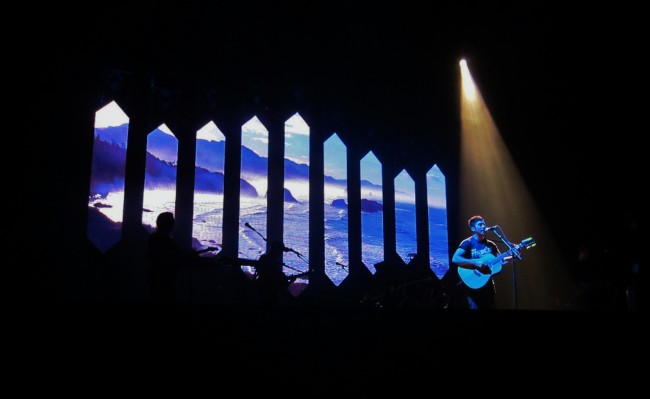 After the instrumental prelude of Redford (For Yia-Yia & Pappou), Stevens opened on Death By Dignity by singing, "I don't know where to begin" and "I've got nothing to prove." Despite these concerns he managed to begin anew magnificently and proved both nights that he is a musical heavyweight despite the ostensibly miniature frames of many of his songs.  Stevens went on thereafter to perform nearly the entirety of Carrie & Lowell.  Should Have Known Better is one of the standouts of the new album and was one of the highlights of the evening (see for yourself below in the fan video).  Other highlights included the superb Paul Simon-ish Eugene, John My Beloved (with Stevens' otherworldly vocals and Dawn Landes' harmonies), the desolation and beauty of The Only Thing with its musical "sounds and wonders," the frankness ("we're all going to die") of Fourth of July, and the album's eponymous homage.  Throughout the first half, Stevens' home movies of Carrie and others were projected onto church-like window-screens behind the stage.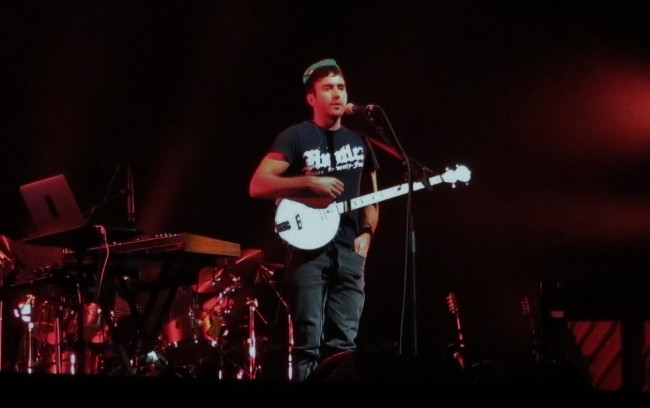 As a transition to the second half of the shows, Stevens treated the audience to a moving/entertaining monologue each night, and a mesmerizing mix of older songs.  On Wednesday Stevens explained his parents indifference to death:  "I blame my parents for everything.  My obsession with mortality comes from them.  They were unflinching on the topic of death.  I remember one time we were driving in a blizzard and my father lost control on ice, and I looked up in the passenger seat and saw my step-mother grab a ginger ale, drink it and say 'kiss it goodbye kids.'  As the centrifugal force force gathered in me my entire life."  He then told a story about his father having him put his pet albino rat ("Mr. Bossy Pants") out of its misery.  After the deed was done, Stevens' father said 'Mr. Bossy Pants just went to meet his maker.'"  And Stevens led into the next song by saying "'Cause we're all headed there someday."  On Thursday Stevens discussed how we are all given great encouragement throughout our lives until we graduate from college and are essentially left alone to weather the harsh realities of life.  He closed by calling for the crowd to commit anew to encouraging others in these times.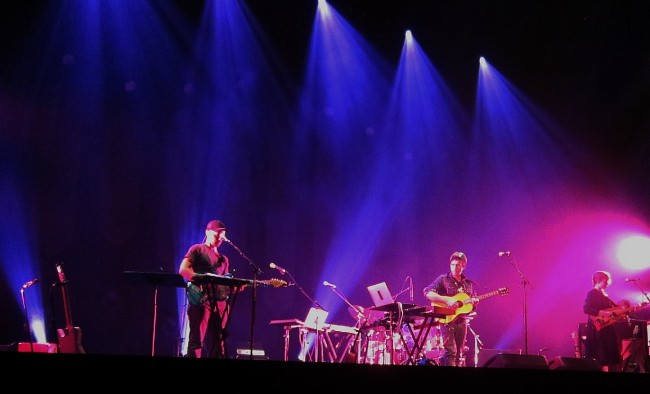 The shows' second half songs included the delicate, given-new-meaning The Owl & The Tanager, three consecutive songs (on Wednesday) from Seven Swans (the first banjo moment on the building In The Devil's Territory, The Dress Looks Nice on You, and superb solo highlight To Be Alone With You), and Age of Adz's Futile Devices.  And then on Wednesday it was time for one of the greatest songs ever written, the heart-rending Casimir Pulaski Day (RIP Matt and Claire).  Stevens then closed his main set each night with album-closer Blue Bucket of Gold and its release of Carrie to Revelations-worthy bombast and light.  About this song and its high-decibel backdrop, Stevens has said:  "I didn't know (my mom) well in a lot of ways and I didn't know how to say goodbye on the last track with articulation. So I quit playing piano and vocals and just stopped. I wanted to surrender her to the beyond with noises that sound bigger than just me."  Mission accomplished, as they say.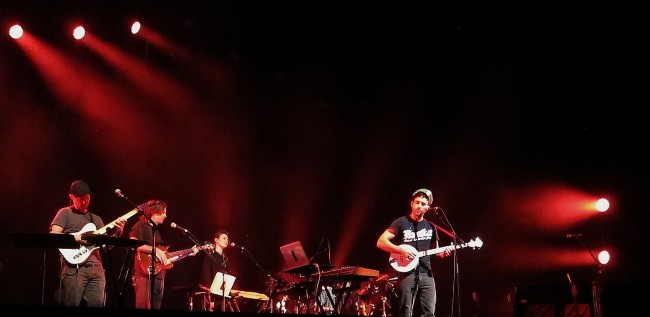 He closed each night with crowd-favorites from the much-loved Illinois album, including Concerning the UFO Sighting Near Highland, Illinois; The Predatory Wasp of the Palisades Is Out to Get Us!; and Chicago.
Differences between the two nights?  The crowd was supremely reverential on Wednesday with no humming or singing along, which reduced distraction and heightened the focus and intensity of the performance.  And Wednesday was our preferred setlist.  On Thursday the sound and vocal effects had been completely dialed-in and the volume levels had been seemingly doubled as the revelatory bombast at times pounded the Pavilion.  And we were treated to For the Widows in Paradise, For the Fatherless in Ypsilanti (watch below).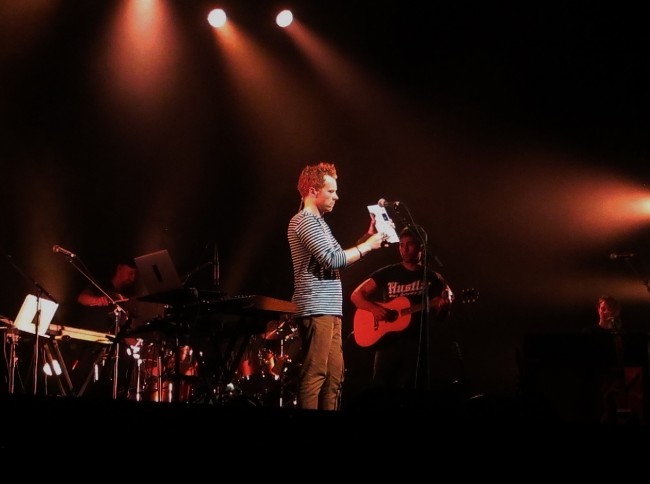 Stevens never fails to impress live, and these consecutive two-hour shows in Los Angeles confirmed he is one of our most gifted songwriters, composers and performers. Stevens received confirmatory standing-ovations each night from all five levels of the Pavilion. It's telling that a few days later we still find ourselves gleefully singing "we're all gonna die" over and over as the unforgettable melody continues to scroll through our minds.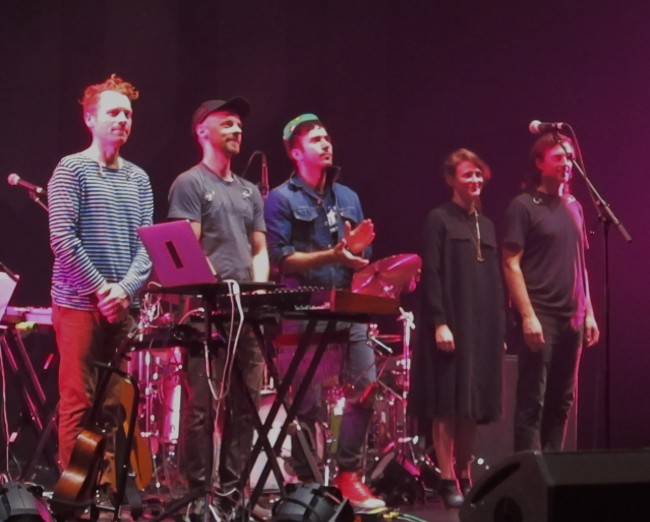 Helado Negro opened each night in solo performance (save two tinsel-covered, nebulous beings in tow) and impressed each night with his songs, but especially his uniquely sonorous vocals.  We can't wait to catch him the next time he returns to town.
Finally, kudos to Stevens for having the foresight to select the Dorothy Chandler Pavilion for his LA stops.  Doing so cut down dramatically on distractions and brought added focus to the superb songs and performance, without the usual chat and scat fests.  Bravo!
Should Have Known Better:

Fourth of July:

For the Widows in Paradise, For the Fatherless in Ypsilanti:

Casimir Pulaski Day:

Chicago:

Setlist Wednesday:
Redford (For Yia-Yia & Pappou)
Death With Dignity
Should Have Known Better
Drawn to the Blood
All of Me Wants All of You
Eugene
John My Beloved
The Only Thing
Fourth of July
No Shade in the Shadow of the Cross
Carrie & Lowell
The Owl and the Tanager
In the Devil's Territory
The Dress Looks Nice on You
To Be Alone With You
Futile Devices
Casimir Pulaski Day
Blue Bucket of Gold
Encore:
Concerning the UFO Sighting Near Highland, Illinois
The Predatory Wasp of the Palisades Is Out to Get Us!
Chicago
Setlist Thursday:
Redford (For Yia-Yia & Pappou)
Death with Dignity
Should Have Known Better
Drawn to the Blood
All of Me Wants All of You
Eugene
John My Beloved
The Only Thing
Fourth of July
No Shade in the Shadow of the Cross
Carrie & Lowell
The Owl and the Tanager
For the Widows in Paradise, For the Fatherless in Ypsilanti
Heirloom
To Be Alone with You
Futile Devices
Sister
The Predatory Wasp of the Palisades Is Out to Get Us!
Blue Bucket of Gold
Encore:
Concerning the UFO Sighting Near Highland, Illinois
Chicago