Love Song of the Week/Summer: "Let It Grow" by Maximum Balloon (ft. Karen O and Tunde Adebimpe)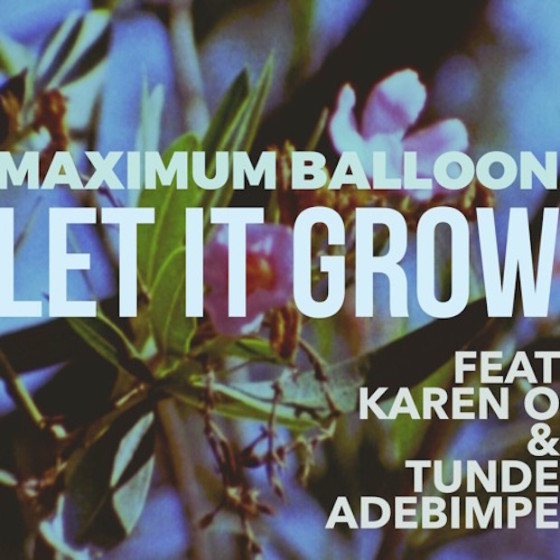 Producer/musician Dave Sitek (TV On The Radio) has had a solo project entitled Maximum Balloon since 2010's album debut.  Maximum Balloon (on Federal Prism) is now back with a phenomenal new love song and an avowed album.
This lovely song, Let It Grow, may end up joining the wedding-song pantheon. It features the crystalline vocals of sultry Karen O and TV On The Radio's stentorian Tunde Adebimpe doing what they do best.  Listen below.  It just floats over you while Sitek continues to baste on the shimmering sounds to the song's end.  Like a Maximum Balloon ought to.  'Tis lovely.  The lyrics are at bottom.
Let It Grow:
"I don't wanna need another one
Cause I only ever really feel like me
When I'm with you
I don't wanna need another one
Cause I only ever wanna be myself
When I'm with you
I don't wanna see another one
Cause I only ever wanna look one way
And that's at you
I don't wanna hear another word
Cause I'm only gonna feel one way
If I can't stay with you
From a tree a forest grows
It could turn into anything
It's ok to let it grow
Let it grow into everything
I don't want to be the one who goes and fades and fades away
I don't wanna be
Don't want to be another memory
Gonna bring the heat when the winters come and ease the pain
Gonna bring the sun
Rise and set with you everyday
From a tree a forest grows
It could turn into anything
It's ok to let it grow
Let it grow into everything
Look outside at what's become
No we're not tired
We can try for eternity
Look outside at what's become
No we're not tired
We can try for eternity
From a tree a forest grows
It could turn into anything
It's ok to let it grow
Let it grow into everything
I wanna be the one you love
I just had to let it grow"