Oh To Be In Eaux Claires: Watch The Now-Prophetic "Apartment Story" Video By The National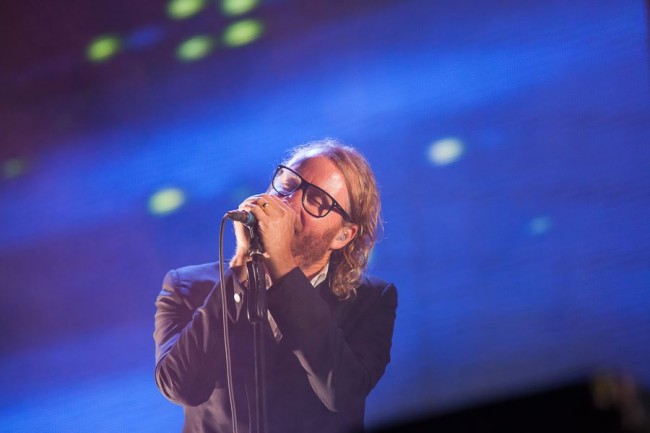 Photo by: David Szymanski
As we write, the dream-festival is going on in Eaux Claires, Wisconsin.  As reported here ad nauseum, Justin Vernon is putting on the Eaux Claires Music Festival this weekend and it features the most Lefort-centric lineup and confab we've ever heard of.  Bon Iver, The National, Sufjan Stevens, Spoon, Field Report, Sylvan Esso…are but a portion of the lineup.  Dang.  Word has come in of last night's set by The National (with Sufjan Stevens, Justin Vernon and others in support), and it literally hurts our souls to have missed it.
We were particularly hurt to learn that we missed The National (see above picture) performing one of our all-time favorite songs, the rarely-performed Apartment Story off of their breakout album Boxer.  So off we went down that rabbit-hole this morning, rediscovering the prophetic official video for Apartment Story.  The video is ostensibly of the band merely performing at a wedding.  But in retrospect, the video can be seen as imagining/predicting the band's slowly-evolved popularity and takeover of the music world with their incessantly perfect songs and deliveries.  As with the music audience back in the day, the wedding attendees initially sit yammering inattentively while the band delivers their stunning song in the background.  But at 2:01 we see the attendees gradually coming to attention and getting sucked into the song and band, with their gazes, toe-tapping (like my father) and finger-drumming.  And then they're all in (including Matt Berninger's wife, Carin Besser, at 2:21 and his Mistaken For Strangers' brother Tom Berninger at 2:09).  And so it has gone for The National since the video was released in 2007.
We don't know a more-deserving band.  Bravo boys!