Concert Review: Destroyer Regaled at the Regent Theater LA Last Night, with Devon Williams Opening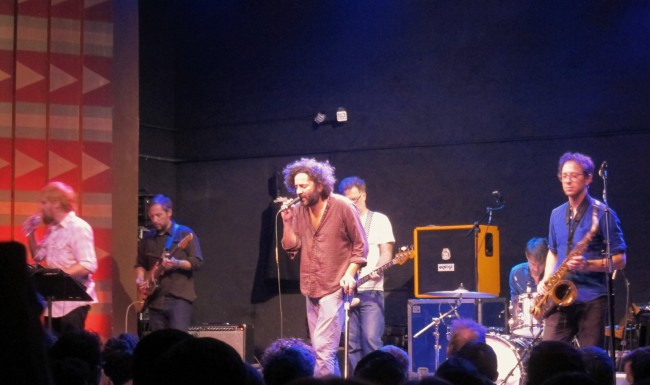 We'd waited fifteen-plus years to catch a show by Destroyer, the moniker of the deconstructionist ensemble led by Vancouver's Dan Bejar (also a member of the superb New Pornographers).  That wait finally ended last night at the Regent Theater in LA when Destroyer stopped by on its current tour in support of its revelatory, seeker-infused album, Poison Season.  Destroyer's eight members took the stage by storm at the Regent and relented only occasionally to calm the musical nerves.  To sum up:  Destroyer out-performed our heightened expectations (a nearly-impossible task, given how much we've treasured Destroyer's discography), and delivered one of the more captivating shows of the year.
Throughout the evening, the band (consisting of Bejar, Scott Morgan, John Collins, Ted Bois, Nicolas Bragg, Tim Loewen, Fisher Rose and Joseph Shabason) ranged widely from delicate, horn-and-flute infused arrangements to all-in, wall-of-sound assaults on our ears.  There was beauty in the variety, and power in the largesse.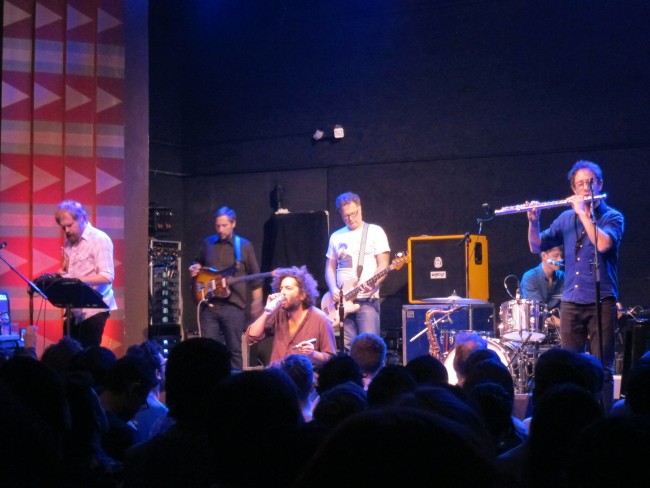 The centerpiece of the show, naturally, remains the hirsute, unbuttoned Bejar, whose vocals have rightly been compared to early Bowie.  Despite that comparison, Bejar's spoken-sung delivery remains one of THE signature voices in all of music.  Most of the evening Bejar sang with microphone in right hand and left hand holding on to the "cane" of a half-mast mic stand.  After each vocal segment, Bejar would crouch/kneel and sway to the ravishing music of his band while swigging a beverage.  Focused on the task at hand, Bejar barely interacted with the audience, saying "thanks" a couple of times and lifting up Frog Eyes for praise despite their absence (owing to US visa problems).  In the end, all that mattered was the profound music being made on stage.  Bejar's talented band mates must be heard to be believed, with exemplary trumpet, sax, guitar, keyboards and drumming tugging hearts or wailing throughout, as needed.  Complex arrangements and deft/delicate playing were mixed and melded in maelstroms varying from beauty to verve.
Destroyer dotted their set with Poison Season songs predominantly, but also with gems from masterpieces Kaputt (from 2011) and the earlier Destroyer's Rubies. Great moments from the set included the pastoral-opening Bangkok, Girl On A Sling, Midnight Meet The Rain, Times Square (which, with any justice, would be a radiant radio hit), Hell Is An Open Door, the Springsteen-ish, full-tilt Dream Lover, and Kaputt's Chinatown.  The clear highlight of the evening, though, came on the heart-rending Poor In Love, which was as affecting as any performance in recent memory.  Bejar seemed to relish the emotion the song drew from the audience, as evinced by the seasoned lad nearby who sang along, tears streaming down his face as he danced on.  And he wasn't alone.
We can't wait to be destroyed again.  Long live Destroyer!  Don't miss their tour, the remaining dates of which can be found HERE.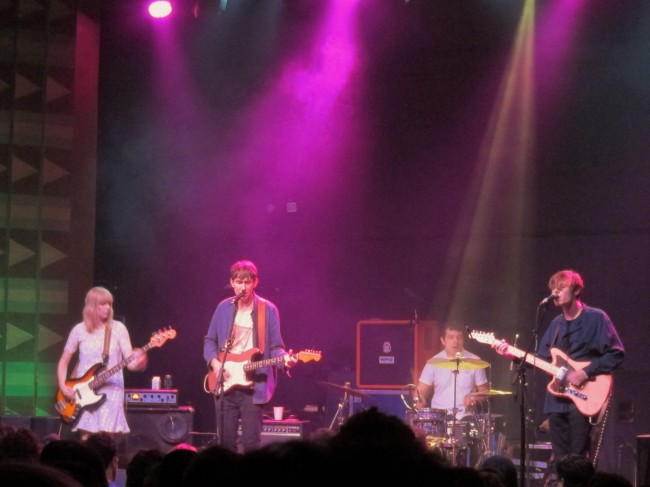 As a last minute replacement for scheduled openers Frog Eyes, LA artist Devon Williams (and band, pictured above) delivered a passionate opening set while updating the sounds of the Smiths and Robyn Hitchcock. Williams is one to keep an eye on.
Destroyer's Setlist:
Bangkok
Forces from Above
Kaputt
European Oils
Girl in a Sling
Savage Night at the Opera
Midnight Meet the Rain
Shooting Rockets (From the Desk of Night's Ape)
Times Square
Poor in Love
Hell Is an Open Door
Libby's First Sunrise
Dream Lover
Encore:
Chinatown
Rubies