Watch Kendrick Lamar Light Up Colbert Last Night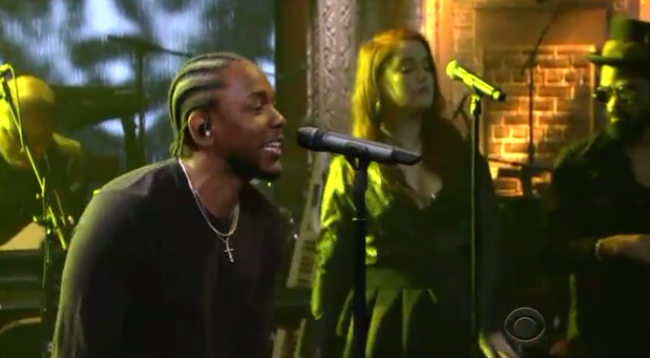 When Stephen Colbert closed out the Colbert Report he did it in style with an incendiary musical performance by King Kendrick (Lamar).  After a feelgood cover of Sly Stone's Everyday People by a large entourage on Monday's opening night of The Late Show with Stephen Colbert, Colbert got down to serious musical work by having Lamar as his first proper musical guest.  And Kendrick delivered the goods with a tour-de-force performance of a mind-blowing medley of tracks off To Pimp a Butterfly.  The medley consisted of Wesley's Theory, Momma, King Kunta, and U, the latter featuring an added verse.
Check it out below.  Kendrick was once again backed by a full band that included the talented Thundercat and Bilal.
With these two Colbert performances, Lamar has locked up 2015's Best Musical Performance on TV award.  Game over.  As Colbert said: "That was beautiful."
Two days in, Colbert hasn't missed a musical beat.  But we'll just see about the rest of the week (how you can follow Kendrick Lamar with a "country" star and a Paul Simon cover band, we can't imagine).  But hey, Colbert's the one with the Big IQ so….
After the performance check out the mutual love society evinced on Twitter.
I suddenly have enormous affection for Kendrick Lamar. #LSSC https://t.co/LfdeoD187w

— Stephen Colbert (@StephenAtHome) September 10, 2015