Review: The National at The Troubadour–Benefit for Cooperative For Education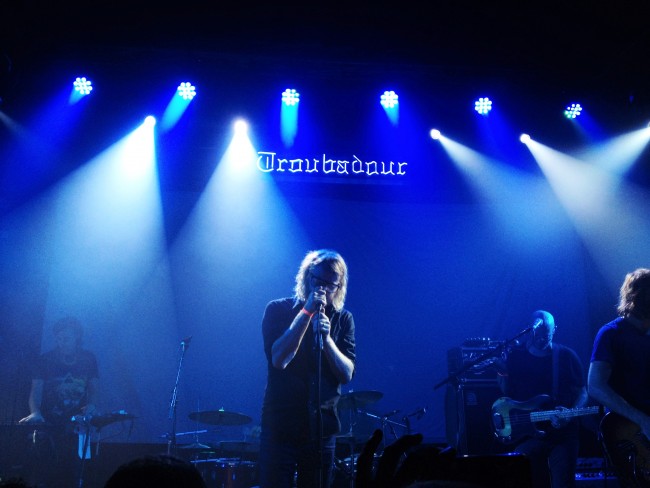 All-time Lefort-faves The National performed two shows last night at The Troubadour as a benefit for Cooperative For Education and its "Thousand Girls Initiative," and all was right with the world for a few hours.  You may have noticed by now that The National have been fully-nationalized, playing festivals and large venues around the world.  So catching them at the tiny "Los Angeles cathedral" The Troubadour provided a special treat for their ardent fans, particularly since they hadn't performed at The Troubadour since March 2006.
Singer Matt Berninger opened on-stage with his cousin, Jeff Berninger (a founder of Cooperative For Education) explaining the charity's origins and worthy purpose (raising funds for Guatemalan schoolchildren, with the focus rightly on Guatemalan girls).
Following that necessary precis, the remaining band members came down the Troubadour's steps and opened with Scottish traditional Peggy-O (made famous by some Bay Area band that will remain nameless).  The band then performed a powerful trio of songs from Trouble Will Find Me before speaking of their current recording sessions and performing a brand new, slow-burn song Walk It Back (alternatively known for a while as Roman Candle, watch below). Opening with au current synth-pulse, the song features Bryce Dessner's always-affecting, subtly-genius guitar-play and Berninger "walking it back."
After the new song, the band shifted into fan-favorite mode, reeling off Bloodbuzz Ohio, Sea of Love and the victoriously-venomous Squalor Victoria, before returning to more great Trouble Will Find Me tracks (see full setlist at bottom). A decade-plus later, Berninger still deftly ranges between humor and grand-mal seethers, and it remains a joy to behold his rich pageant. The Dessner Twins and Devendorf Rhythm Brothers play with unparalleled aplomb and chemistry, accented by keyboardist/horn-player/harmonizer Ben Lanz and pal.
Berninger then naturally devoted I Need My Girl to the pro-girl Cooperative For Education. Subsequent highlights were All The Wine, and, well, each and ever remaining songs from the show (but especially Slow Show, Pink Rabbits, Mr. November and England–with its "Los Angeles cathedral" verse receiving a huge crowd-applause and smiles all-around from the band). The show ended with the now-standard closer, the all-acoustic Vanderlyle Crybaby Geeks sing-along. The devoted crowd sang every word to every song this night. The band members were in good spirits throughout (amiably exchanging jibes) and seemed to feed off the crowd's energy while shaking off some lay-off rust (with resulting glances between the Dessner twins and with other band members).
The National play tomorrow at the Treasure Island Festival before taking a break (hopefully to work more on the recording). Berninger will release (with Brent Knopf) EL VY's fantastic album Return To The Moon on 10/30 and heads out on tour in support (stopping at The Troubadour, on November 7th and which we'll review).
It was a fantastic night for a great cause, and will be remembered fondly by all who attended.
Peggy-O
Don't Swallow the Cap
I Should Live in Salt
Hard to Find
Walk It Back
Bloodbuzz Ohio
Sea of Love
Squalor Victoria
I Need My Girl
This Is the Last Time
All the Wine
Slow Show
Pink Rabbits
England
Graceless
Fake Empire
Mr. November
Terrible Love
Vanderlyle Crybaby Geeks