Watch/Listen to EL VY's New Song "Need A Friend" Via Tom Berninger's Lyric Video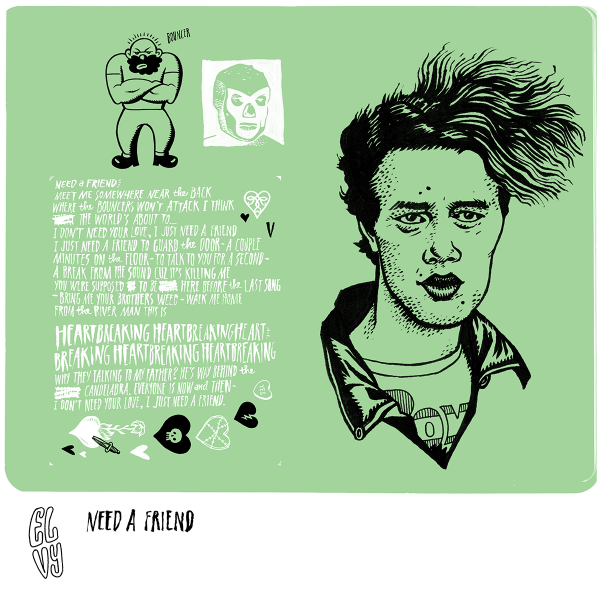 Halloween and the spectacular debut album from EL VY, Return To The Moon, cometh this weekend. Spooky.  Today EL VY has divulged another great song, Need A Friend, via a lyric video directed by Matt Berninger's brother Tom (director of the award-winning Mistaken For Strangers film).  Need A Friend recalls Matt Berninger's musical coming of age as constructed within and without Cincinnati's now-demised Jockey Club.  The video depicts the band performing live with drummer Andy Stack (Wye Oak) and bassist Matt Sheehy (Lost Lander), who will accompany on the band's upcoming tour.  Speaking of which, all tour dates and links are below the video.  Check it out.
You can pre-order Return To The Moon on LP/CD HERE.

November
2nd – Doug Fir Lounge, Portland OR, US^£ – SOLD OUT
3rd – Doug Fir Lounge, Portland OR, US^# – SOLD OUT
4th – Neumos, Seattle WA, US# – SOLD OUT
6th – The Independent, San Francisco CA, US# – SOLD OUT
7th – Troubadour, Los Angeles CA, US% – SOLD OUT
8th – Troubadour, Los Angeles CA, US# – SOLD OUT
10th – Union Transfer, Philadelphia PA, US~ [Tickets]
11th – 9:30 Club, Washington DC, US+ [Tickets]
13th – Bowery Ballroom, New York NY, US~ – SOLD OUT
14th – Music Hall of Williamsburg, Brooklyn NY, US~¥- SOLD OUT
15th – The Sinclair, Boston MA, US~ – SOLD OUT
16th – Theatre Fairmount, Montreal QC, Canada* [Tickets]
17th – Opera House, Toronto ON, Canada* SOLD OUT
19th – Metro, Chicago IL, US* – SOLD OUT
20th – The Turner, Milwaukee WI, US* [Tickets]
21st – First Avenue, Minneapolis MN, US* [Tickets]
December
1st – Pumpehuset, Copenhagen, Denmark• – SOLD OUT
2nd – Grunspan, Hamburg, Germany• [Tickets]
3rd – Melkweg, Amsterdam, Netherlands• – SOLD OUT
4th – Kantine, Cologne, Germany• [Tickets]
6th – Astra, Berlin, Germany• [Tickets]
7th – AB, Brussels, Belgium• – SOLD OUT
8th – Le Trabendo, Paris, France• [Tickets]
9th – Electric Ballroom, London, UK• – SOLD OUT
10th – Electric Ballroom, London, UK• – SOLD OUT
12th – Gorilla, Manchester, UK• – SOLD OUT
13th – Vicar Street, Dublin, Ireland• – SOLD OUT
# w/ Hibou
~ w/ Wye Oak
^ w/ Moorea Masa
£ w/ Lost Lander
% w/ Ethan Lipton & His Orchestra
+ w/ Flock of Dimes
¥ w/ Mina Tindle
* w/ Søren Juul
• w/ The Penny Serfs