Watch Dave Rawlings Machine's Set on KEXP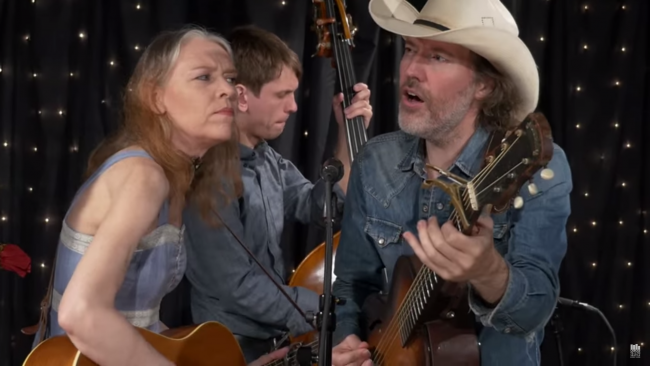 Though we were ecstatic to have caught Robbie Fulks in Santa Barbara last month, as a result we were chagrined to have missed the great Dave Rawlings Machine the same night at the Lobero Theater when DRM rolled through town in support of its superb new album Nashville Obsolete. We took some solace that we had caught Gillian Welch and Rawlings two weeks before at the same venue when they gave one of the Best Concerts of 2015.  We now have further consolation thanks to KEXP's release of the video of DRM's set in their studios.
Watch below as Rawlings, Welch, Willie Watson, Paul Kowert, and Brittany Haas sing and play your heart out.  The opening song, Short Haired Woman Blues, manages to mesmerizingly mesh threads of Neil Young, the Stones' Wild Horses and House of the Rising Son into an instant classic.  They also performed The Last Pharaoh, The Weekend (another favorite off the new album) and Sweet Tooth on KEXP.  Check it out below and pick up the great new album. Dave Rawlings Machine continues on tour this month and next, returning to Cali on January 16th at the Ace Hotel.  Tour info and tix can be found HERE.   Don't ya miss 'em.