Watch the All-Star Karaoke Captured in Dawes' Video for "All Your Favorite Bands"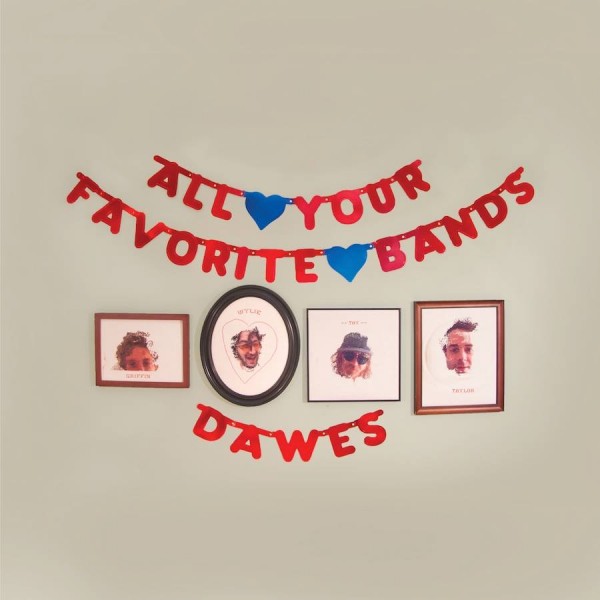 Earlier this year, long-time faves Dawes released their critically-acclaimed album entitled All Your Favorite Bands.  The album, produced by the gifted Dave Rawlings, is yet another in a string of well-wrought and well-rendered albums from the under-appreciated LA band.  The album and its songs are naturally showing up on lots of Best Music of 2015 lists.
The title track is alone worth the price of admission.  Late in September Dawes released the heartwarming track's official video, and we plum forgot to feature it on these pages.  No mas.  Check the video out below, which was directed by Kevin Hayes and features vignettes of Dawes' musical pals mouthing/singing-along to the song.  It's a heartwarmer (as is the song).  Watch for Rawlings and Gillian Welch, My Morning Jacket, Conor Oberst, The Killer's Brandon Flowers,  M. Ward, Blake Mills, Delta Spirit's Matt Vasquez, Deer Tick's John McCauley, and John Moreland, among others, finishing off with a cute bunch of school kids singing along.
About the video, the band's lead singer-songwriter Taylor Goldsmith (one of America's best) said this about the video:  "This is really a video made by our friends. All we told everyone is that we wanted some footage of them singing our song. All of their different settings and situations were completely their ideas. We had no idea what to expect. But we really love how it came together and for us, it really seems to suggest the musical family we feel lucky enough to have been a part of over the last six years."
Afterwards, watch the band perform an acoustic version of this great song (lyrics at bottom). Sweet harmonies gratis.
All Your Favorite Bands:
"Late night drives and hot french fries
And friends around the country
From Charlottesville to good old Santa Fe
When I think of you, you still got on that hat that says let's party
I hope that thing is never thrown away
I hope that life without a chaperone is what you thought it'd be
I hope your brother's El Camino runs forever
I hope the world sees the same person
That you've always been to me
And may all your favorite bands stay together
Now I'm just waking up and
I'm not thinking clearly so don't quote me
Of what I hope when I'm writing you this song
Ain't it funny how some people pop into your head so easily
I haven't seen you in there for so long
I hope that life without a chaperone is what you thought it'd be
I hope your brother's El Camino runs forever
I hope the world sees the same person that you always were to me
And may all your favorite bands stay together"