Watch/Listen to Sufjan Stevens' New Lyric Video for "Christmas Unicorn (Love Will Tear Us Apart)"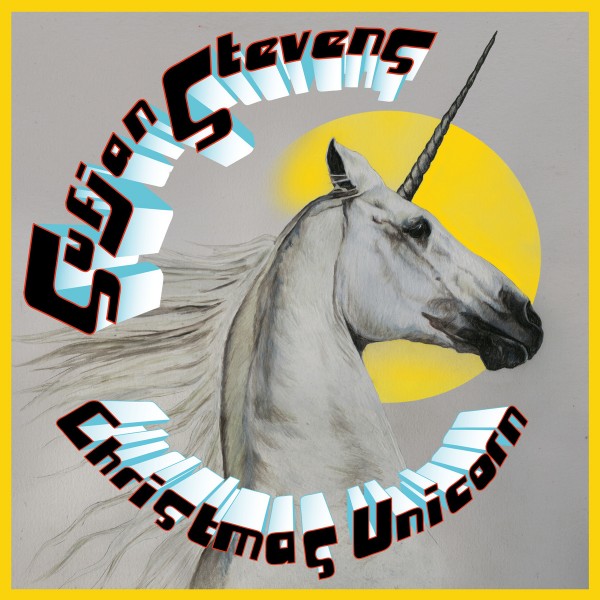 Three years ago we were invited to Santa (Sufjan) Stevens' wondrous Christmas Sing-A-Long pageant/concert at the Fonda Theater in LA, and it was without doubt the best Christmas show we have ever attended.  Though the night was littered with confetti and highlights, the apex of the evening was Stevens' rapturous performance of his (and Joy Division's) Christmas Unicorn (Love Will Tear Us Apart).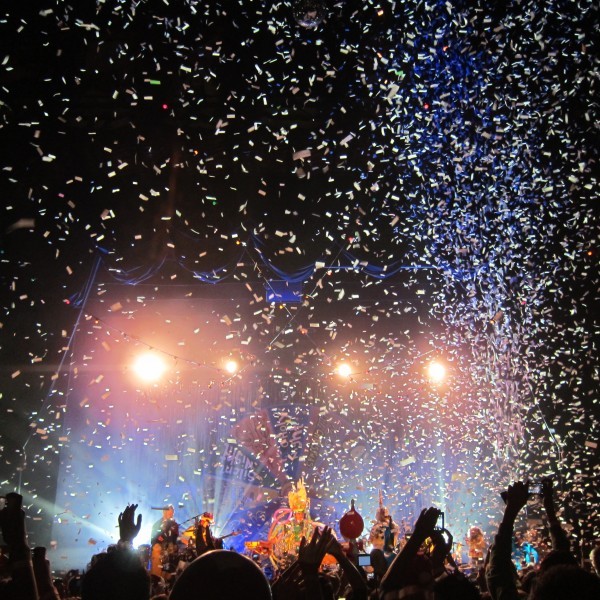 As we wrote about the performance:  "Sufjan and crew ended the set with a Revelatory rendition of new song Christmas Unicorn.  Donned in bike helmet affixed with apropos unicorn horn, and with balloon wings on his arms, Stevens led his band of merrymakers in a true "celebration" of Christmas.  Midway through the song the confetti cannons went off and large red balloons were put into play (veering dangerously close to Flaming Lips territory).  As the confetti rained down, the song transitioned to its (for us) highly-emotive Love Will Tear Us Apart (Joy Division) sing-a-long segment and back again.  And all was right with the world.  Heaven on earth."
Stevens recently released a new lyric video below, and we've had it on repeat for the last week.  The song has it all about the holiday:  a critique/explique of the Christmas phenomenon, but ultimately ends with a euphoric, season-appropriate, restorative refrain of l-o-v-e and it's tearing of us "apart" (see lyrics at bottom).
Christmas Unicorn is from Sufjan Stevens' Silver & Gold Christmas Unicorn: Songs for Christmas, Vol. 10 (that's right, Vol. 10–all of which are highly recommended), which you can pick up HERE, HERE, or HERE.
Merry Christmas and Happy New Year to all!
Christmas Unicorn:
"I'm a Christmas unicorn
In a uniform made of gold
With a billy goat beard
And a sorceror's shield
And mistletoe on my nose
Oh I'm a Christian holiday
I'm a symbol of original sin
I've a pagan tree and magical wreath
And a bowtie on my chin
Oh I'm a pagan heresy
I'm a tragic-al Catholic shrine
I'm a little bit shy with a lazy eye
And a penchant for sublime
Oh I'm a mystical apostasy
I'm a horse with a fantasy twist
Though I play all night with my magical kite
People say I don't exist
For I make no full apology
For the category I reside
I'm a mythical mess with a treasury chest
I'm a construct of your mind
Oh I'm hysterically American
I've a credit card on my wrist
And I have no home nor field to roam
I will curse you with my kiss
Oh I'm a criminal pathology
With a history of medical care
I'm frantic shopper and a brave pill popper
And they say my kind are rare
But I've seen others in the uniform
Of a unicorn just like me
We are legions wide and we chose no sides
We are masters of mystique
For you're a Christmas unicorn
I have seen you on the beat
You may dress in the human uniform, child
But I know you're just like me
I'm the Christmas Unicorn (Find the Christmas Unicorn)
You're the Christmas Unicorn too (It's all right, I love you)
I'm the Christmas Unicorn (I'm the Christmas Unicorn)
(Find the Christmas Unicorn)
You're the Christmas Unicorn too (You're the Christmas Unicorn too)
(It's all right, I love you)
I'm the Christmas Unicorn (I'm the Christmas Unicorn)
(Find the Christmas Unicorn) (apart, my friend)
You're the Christmas Unicorn too (You're the Christmas Unicorn too)
(It's all right, I love you)
Love, love will tear us apart, again
Love, love will tear us apart, my friend
I'm the Christmas Unicorn (Find the Christmas Unicorn)
(Love, love will tear us apart, again)
You're the Christmas Unicorn (It's all right, I love you)
(Love, love will tear us apart, my friend)"