Review of Alluring Alyeska at the Bootleg Theater in LA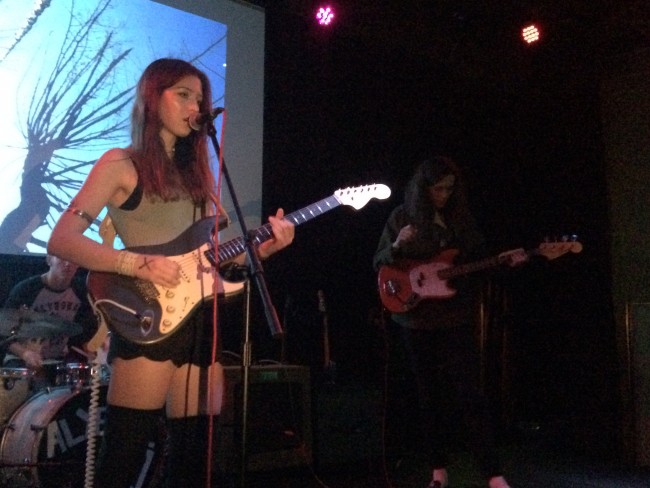 By: Gary Kenny
A lot of very interesting, very talented young female artists have burst into our awareness during the last year (Julien Baker, Miya Folick, Hop Along, Eskimeaux, etc.).  The latest is Alaska Reid, fronting the trio Alyeska ("It's a band man") with Ben Spear on drums and Enzo Scardapane on bass and guitar. Last Saturday at the Bootleg Theater, Alyeska delivered a riveting and thoroughly enjoyable ten-song set, pulling from their 2014 EP, other/current singles, and four new songs (or at least songs we haven't heard before–see setlist below).
Reid's sultry vocals ride on airy guitar, with Spear and Scardapane complementing her well. Building on a melodic base, Alyeska's songs lull you into an almost dream-state before cranking matters up several notches. And crank it up they do, but even more so live than on the recordings. Switching guitars on nearly every tune, and even throwing in some effective slide-guitar flourishes, Reid moves effortlessly from gentle picking to muscular strumming, and all within the atmospheric context of her unique and compelling style. And oh, that voice!
Reid announced that in March she and the band are traveling to New York to record an album with revered John Agnello, the producer of their current singles (not to mention Hop Along and a host of others). This is good news for fans of good music. The music business is notoriously fickle, but you'd be well-advised to see Alyeska up close and personal in a small venue while you still have the chance.  You won't be disappointed.
Setlist:
So Long
Lose My Place
Untitled New Song
Lilacs
Coyote
Sister
Honest
Everglow
Medicine River
Stones