The Todos Santos Music Festival–Peter Buck's Philanthropic Rock-Fest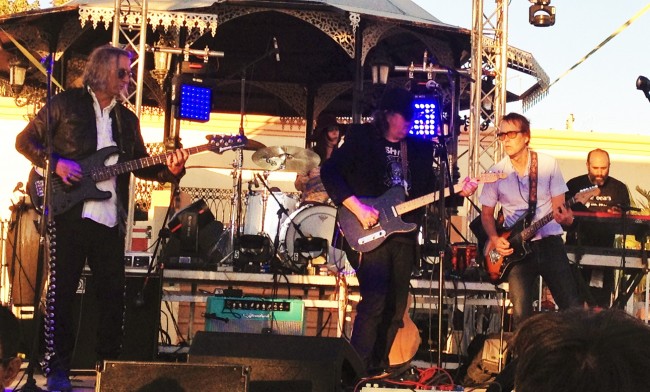 The fifth annual Todos Santos Music Festival culminated last weekend in southern Baja, and thankfully we were there to witness this feel-good rock-fest in all its glory.  TSMF is the post-REM philanthropic project of Peter Buck (and his wife, Chloe Johnson) that was begun by the couple to help support local charities/efforts in their new-home beach community of Todos Santos. This year's TSMF raised money for the Palapa Society.  Run over the course of two weekends (1/14-16 and 1-21-23), the TSMF format is to shuffle the lineup each of the three nights of the respective weekends, and have the spotlighted bands supported by a revolving door of spectacular supporters and cross-pollinators from other bands (see below).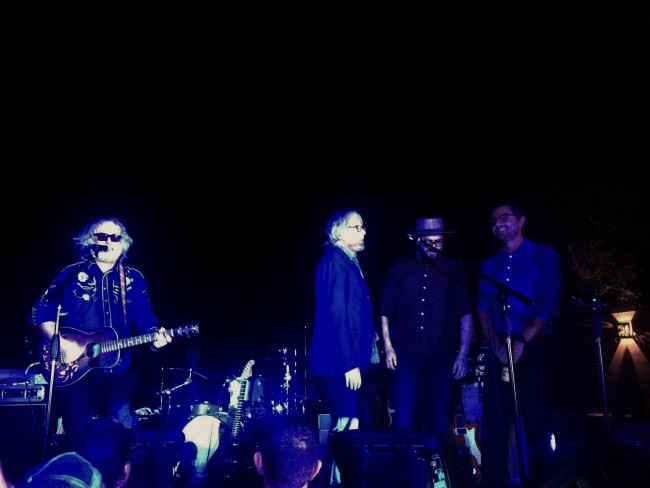 We unfortunately missed the first weekend of TSMF, which featured (for the first time) Jeff Tweedy (Wilco).  With the assistance of Wilco's Pat Sansone and John Stirrat (separately performing as The Autumn Defense), Buck and a host of other TSFM luminaries, Tweedy managed to play 44 different songs (no repeaters*) over the three nights of TSMF's first weekend.  Tweedy's sets naturally included Wilco, Uncle Tupelo, Golden Smog and solo songs, but also homages to the late, great David Bowie (All The Young Dudes) and covers of Neil Young (Everybody Knows This Is Nowhere) and Bob Dylan (Simple Twist of Fate).  The first weekend also featured, among others, the Old 97's, Mark Eitzel and a host of Buck's hand-picked supporting friends (the multi-talented lads John Paul Jones (you may have heard, Led Zeppelin), Josh Kantor, Kev'n Kinney (Drivin' N Cryin'), Scott McCaughey (Minus 5, Baseball Project), Mike Mills (REM), Chuck Prophet (Green on Red), Steve Wynn (Dream Syndicate, Baseball Project) and Joseph Arthur, and lasses Linda Pitmon (Baseball Project, Minus 5), Corin Tucker (Sleater-Kinney) and Chloe Johnson (with the Jayhawks).  In short, the line-ups' bands are supported by a ridiculousness of rock riches.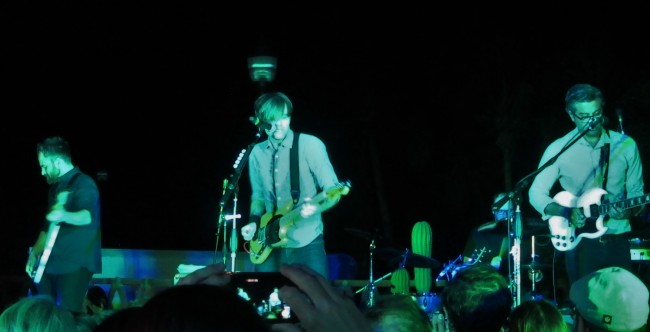 Having never before attended TSMF, our intro couldn't have been any better.  We came over a rise in the desert on Thursday afternoon and dropped in to the patchwork beach community along the Baja coast and shortly thereafter walked into the hosting Hotel California to find the fantastic Lefort-fave Chuck Prophet sound-checking with Kev'n Kinney.  Beauty to our ears.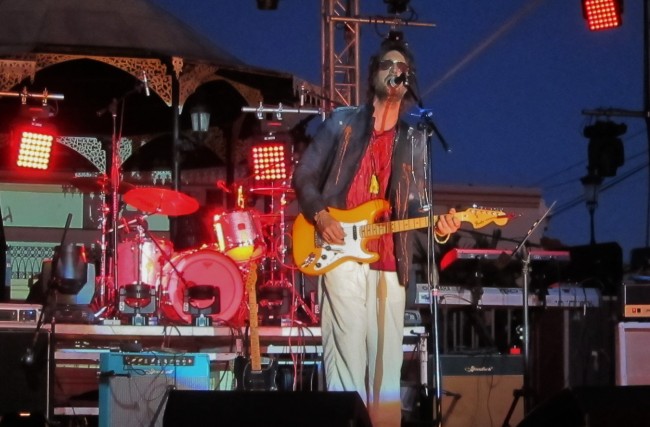 As the show kicked off that night, we first caught the unannounced Baseball Project (McCaughey, Wynn, Pitmon as supported by Mike Mills and Buck) singing their winsome odes to baseball's wallopers and weirdos (lots of 'em Atlanta Braves). Next up was the most pleasant surprise of the festival for us:  Kev'n Kinney.  While we were aware of Kinney's much-lauded band Drivin' N Cryin', we had lost track of Kinney (who has gone on to release critically-acclaimed albums, both solo and with Golden Palominos). The much-loved Kinney would be joined throughout the festival by various stalwart supporters (Prophet, Mills, Buck, Pitmon, Jayhawks' fiddler, etc.) during his sets, but it was his songwriting (Trail of Seasons and A Good Country Mile in particular) and emotive delivery that carried the nights.  Kinney started off a tad tinny vocally, but gathered strength throughout the first night's set and especially vocally, winning over the crowd with his anthem Straight to Hell and closing out his set with an emphatically long-held high note. Next up was Joseph Arthur, one of our faves, who was a bit off his game this night but still enjoyable.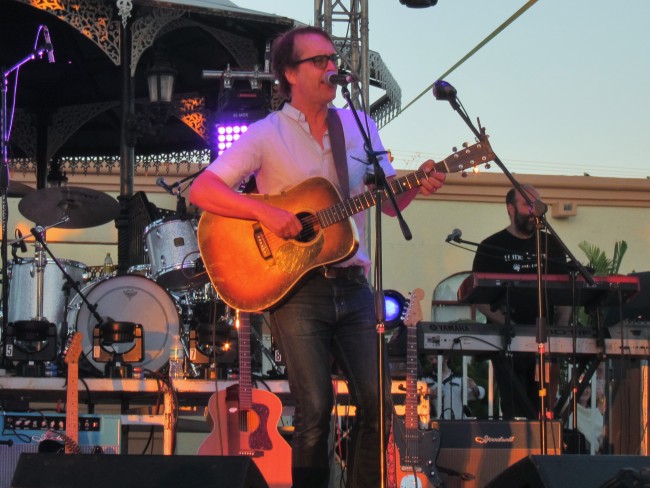 Arthur was followed by one of the best live performers extant, Chuck Prophet.  Though without his Mission Express and Stephanie Finch, Prophet nonetheless gave his usual superb and crowd-pleasing set featuring songs Wish Me Luck, You Did! (backed by Kinney), The Museum of Broken Dreams, and Willie Mays Is Up At Bat (with its euphoria-inducing crowd-singalong).  The Jayhawks were up next and gave one of the best sets of the night, aided and abetted by Gary Louris's sinewy vocals, dexterous playing by the band and the harmonies of members and guests.  As to the latter, the always-grinning Mike Mills was the MVP of Thursday night, jumping up on stage throughout the night to add bass and jubilantly-emphatic vocals to the various sets, but especially during the Jayhawks' performance and during their closing homage to David Bowie via his Starman.  The Starman had to have been smiling down on the uplifting performance.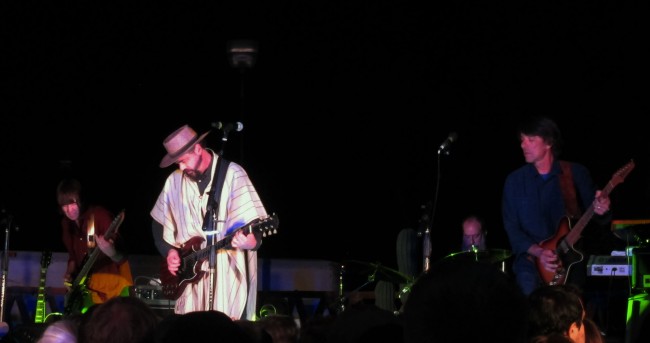 Not to be outdone, the Drive-By Truckers were up next.  The DBTs never fail to impress and especially this evening. Patterson Hood and Mike Cooley traded off on crowd-favorite songs (Lookout Mountain, Three Dimes Down and Sink Hole stood out, as usual) and new songs and won us over completely with their never-say-die rocking and big-hearted ways. Admirably assisted by their other outstanding band members, Hood and Cooley play with unbridled verve, and Hood simply has one of the biggest souls in the business.  Hood introduced an apropos new song (What It Means[?]) confronting racial injustice in America and throughout the night interacted empathically with the crowd, regaling with stories and repartee ("you folks should build a wall around this beautiful place to keep Donald Trump and his ilk out!").  They closed out their set with a rousing version of Bowie's Heroes as sung (appropriately) by Hood.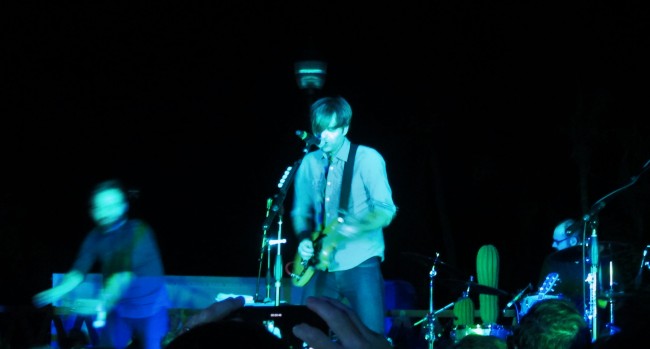 First-time TSMF participants, Death Cab for Cutie, closed out the night with a mesmerizing set of new and old songs that showcased the strength of their songwriting (old and new) but also their new-found, post-Walla energy, with newcomers Dave Depper (guitar) and Zac Rae (keys) adding immensely to one of the best rhythm sections in rock 'n roll, Nick Harmer and Jason McGerr. And of course Ben Gibbard seized the festival's proximity to California to lambaste Californians in song (Grapevine Fires, among them).  All in good fun, Ben, all in good fun. DCFC would add their own "obscure" Bowie cover, Valentine's Day. While DCFC would close out the first night with aplomb, their best was still to come (their sound not being completely dialed in the first night).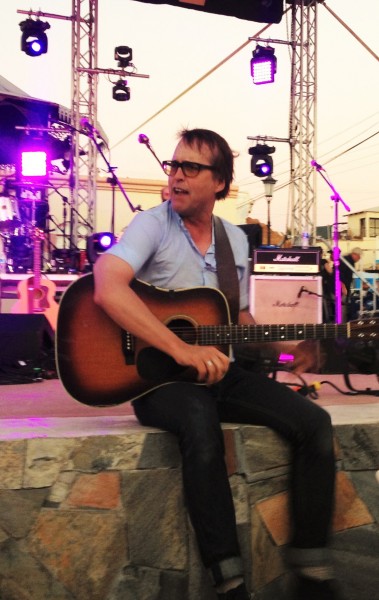 The second night of TSMF at the Hotel California was (thankfully) more of the same (re-ordered, as is its wont), and with the addition of The Minus 5.   One of the best, albeit-too-brief, sets on Friday was put on by Chuck Prophet who opened and had his ardent followers (and new fans) fully-engaged and singing/laughing along to his every word.  You never fail to walk away from a Prophet-able performance fully-entertained.  Next up were The Minus 5 and friends who gave a raving set that started off slowly with a cover of Glenn Frey's/Jackson Browne's Take It Easy (thankfully the first and last Eagles-related material of TSMF), but accelerated from there. They capped off their set with riveting, careening performances of Medicine Show and Days of Wine and Roses (the latter in tribute to revered Rolling Stone writer-in-attendance David Fricke).  Kev'n Kinney then regaled with another sterling set featuring his memorable songs Summertime Days and the evocative A Good Country Mile.  On the latter we noticed plenty of tear-streaked faces in the crowd, and then Kinney himself got a bit misty and glass-eyed, which made the moment that much more affecting (and after which Kinney received a large bear-hug from Mike Mills).  It's moments like these that shed true light on the humans up on stage giving their songs and audience their all, and it was heartily appreciated.  Afterwards, Mills and Peter Buck assisted Joseph Arthur on his short set, which closed strongly.
The Jayhawks again gave the crowd a superb performance of their well-wrought old and new songs. Death Cab for Cutie then gave the performance of the night, if not the entire festival.  DCFC seemed to be on a mission to impress (both the audience and their fellow musicians).  Mission accomplished!  DCFC were en fuego from note one, putting out a rhythmic, walloping wall-of-sound (which was perfect this night) that propelled their songs to such great heights.  Only on the heart-wrenching Black Sun did the band back off the beat and let emotion take its toll.  They were quickly back to blasting business and wowed to the end with their chemistry and drive.  Drive-By Truckers closed with yet another electrifying set, the highlight of which was Hood's World of Hurt on which he encouraged the crowd to fully appreciate the full moon above and how great it is to be alive.  The DBT's ended the night with a scorching finale on which they gave their all and gradually left the stage, one-by-one until it was over. It was indeed great to be alive.
The final night of TSMF is always held in the Todos Santos Town Square for free so that all of the citizenry (and, apparently, others from Cabo San Lucas and elsewhere) can join in the music enjoyment.  It was another impressive night of music, with Prophet's opening set again being a highlight.  Steve Wynn's set was also enthralling, with Prophet and all the Minus 5 members and others slamming on Dream Syndicate's Medicine Show and closing with a powerful, rocking take on Wynn's Amphetamine. Other highlights of the last night included Drive-By Truckers' (with Prophet, Buck, others) set-closing cover of Jim Carroll's season-perfect People Who Died, and two REM covers ((Don't Go Back To) Rockville by Steve Wynn and crew, with Mike Mills taking a capable turn as Michael Stipe, and our own REM-favorite, Fall On Me, by DCFC).  La Santa Cecilia (with the assistance of John Paul Jones) also added setting-perfect musical color and accent to the evening.  It was an entertaining closing night to a truly memorable music festival, and we can't wait to return.
*Other artists should take note and follow suit–you've all got a treasure trove of material, so don't sell yourselves short by playing the same songs all three nights!  Just sayin'.
To get a feel for TSMF, check out the fan videos below, and go HERE to the TSMF Facebook page to see more video vignettes.
Mike Mills, Peter Buck, Scott McCaughey, Steve Wynn, Linda Pitmon, and Patterson Hood performing REM's (Don't Go Back To) Rockville:
Drive-By Truckers, John Paul Jones, Chuck Prophet, and Scott McCaughey performing People Who Died: