Watch EL VY Perform Songs From Our Favorite Album of 2015 on NPR's Tiny Desk Concert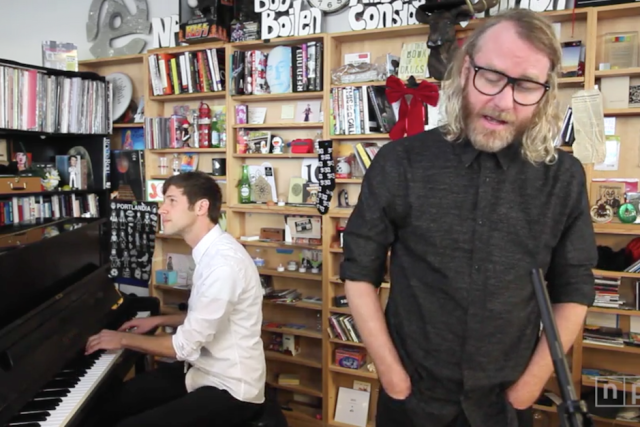 EL VY's album Return to the Moon was our Favorite Album of 2015, and would have been No. 1 on our Best Albums of 2015 list (where'd that list go, it was here just a minute ago?). Blame it on Kendrick Lamar.  While Lamar's To Pimp A Butterfly was the best, most-important album of 2015, Return to the Moon was easily our favorite, most-listened-to album of 2015.  The variety and depth in the album's songs is astonishing, thanks in no small part to the teeming musical mind of Brent Knopf.  The songs range from Joy Division-like post-punk tracks to National-esque ballads, with everything in between. And all feature Matt Berninger's alternately hilarious and devastating lyrics that limn life well, but all-the-while permitting/encouraging the listener to sing the words into their own lives.  Like the best lyrics always do.
EL VY was also fantastic live, as witnessed by us at the Troubadour in LA.  Below on their Tiny Desk Concert we get a great three-song sampling of the core of EL VY's songs, with just Knopf's expressive piano-playing and Berninger's unadorned vocals and lyrics.  It's a powerful combination.  We hope that time will permit these two to collaborate again in the not-too-distant future.