Watch Wilco's Historic and Entertaining Tiny Desk Concert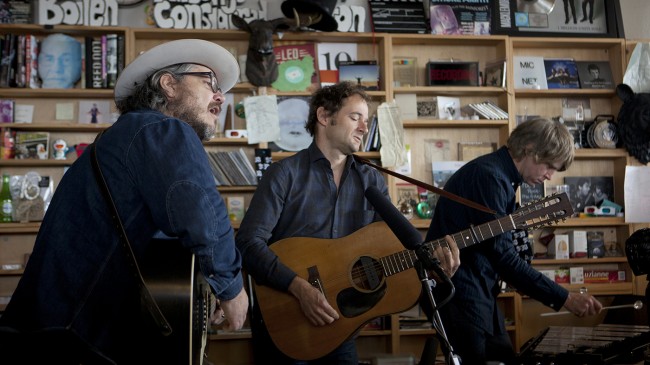 Wilco remains one of the best rock bands extant, and continues to release albums chock-full of great songs (last year's Star Wars appeared on a bountiful number of Best Albums of 2015 lists).  As partial proof of their continued vitality, NPR brought Wilco back for an unprecedented second Tiny Desk Concert.  The band first performed on the Tiny Desk back in 2011 and now in 2016.  Watch below as the band admirably opens with the Dylan-esque The Joke Explained from Star Wars.  They then segued into the still-brilliant Misunderstood from their second album Being There, before closing out with Wilco-set-list stalwarts I'm Always in Love and Shot in the Arm from their brilliant Summerteeth album.  There is beauty within.
On the comedic front, before performing their last song Jeff Tweedy remarks: "OK, we're going to play one more song, and then you guys need to get back to solving this Trump problem. That's what you do right?" Please. Someone.
Check out the performance below.
Set List
"The Joke Explained"
"Misunderstood"
"I'm Always In Love"
"Shot In The Arm"