Watch Bob Moses Perform the Hypnotizing "Tearing Me Up" on KCRW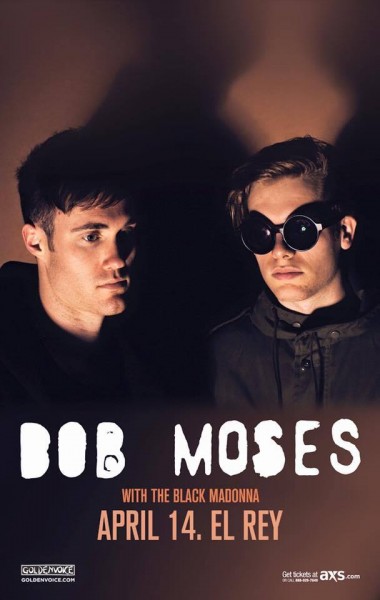 It took a while, but we eventually succumbed to the infectious ear-worm, Tearing Me Up, from Vancouver duo Bob Moses (a.k.a Jimmy Vallance and Tom Howie).  As you can hear below, the song and sound is deeply indebted to the late Bob Welch and his Fleetwood Mac era (easily the best era of that band).  We had to fight off all our vehemently anti-nostalgia ways to let the song in, but Bob Moses co-opted us by adding a compelling new electro-swing to the gestalt to bring it into the 21st century.  The song was one of the highlights on the duo's critically-acclaimed 2015 debut album Days Gone By.  
Bob Moses recently showed up at KCRW to perform their first US radio session.  Check out their winsome performance below of Tearing Me Up below on KCRW.  They will return to Southern California to play Corpchella and related venues in April (e.g. above–check out the tour and get tix HERE). Afterwards watch the official video for the same song, followed by the analogous Fleetwood Mac song Hypnotized as sung by Bob Welch.
You can listen to Bob Moses' entire KCRW session HERE.  Time will tell.