Watch Michael Stipe's Stirring Performance of Bowie's "The Man Who Sold The World" on Fallon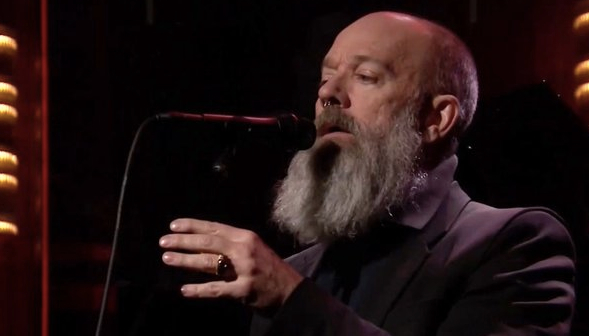 The outpouring for the late, great David Bowie continues unabated. And rightfully so. This Friday (April 1st) a host of great artists (Pixies, The Roots, Polyphonic Spree, Blondie, Anna Calvi, and Esperanza Spalding, among others) will perform at Radio City Music Hall as part of a Bowie tribute concert, which you can stream live (via that link) by making a donation to one of Bowie's favored charities in NYC (where he lived until his passing).
In a rare public performance, REM's Michael Stipe, will also perform at the charity-concert.  To help draw attention to the concert, last night Stipe appeared (brazenly be-bearded) on Fallon's Tonight Show. Watch below as Stipe delivers a stirring, elegiac cover of Bowie's The Man Who Sold The World, accompanied only by go-for-baroque piano. Bravo!