Watch Courtney Barnett Striking Out for Nirvana on Saturday Night Live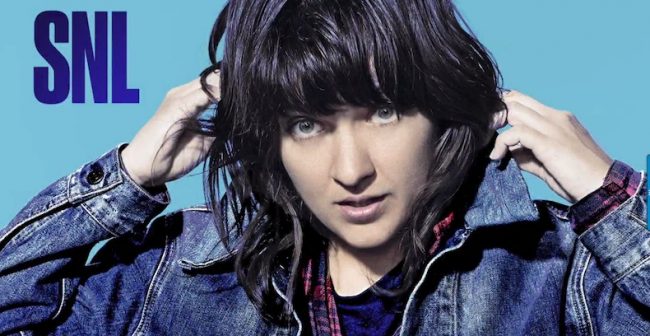 We've adored Australia's Courtney Barnett for seeming eons now (proudly, we were early-adopters on MLK Day in 2014). On Saturday she had arguably her highest profile outing to date, appearing as the musical guest on Saturday Night Live. Watch below to get a feel for Ms. Barnett's rockier side (in addition to her stellar balladry, such as on Depreston, one of the top songs of all of 2015).
First up on our agenda is Pedestrian at Best on which Barnett strikes out for Nirvana, and then amplifies the effect with her Cobain-esque growls from the 3:15 mark on. Superb stuff. She also performed the rollicking, comedic Nobody Really Cares If You Don't Go to the Party. Both songs are off her critically-acclaimed 2015 album Sometimes I Sit And Think, And Sometimes I Just Sit. Barnett is the real deal, and she remains one of the brighter new lyrical lights on the scene (worthwhile lyrics to both songs at bottom).
Pedestrian At Best:
"I love you, I hate you, I'm on the fence, it all depends
Whether I'm up or down, I'm on the mend, transcending all reality
I like you, despise you, admire you
What are we gonna do when everything all falls through?
I must confess, I've made a mess of what should be a small success
But I digress, at least I've tried my very best, I guess
This, that, the other, why even bother?
It won't be with me on my deathbed, but I'll still be in your head
Put me on a pedestal and I'll only disappoint you
Tell me I'm exceptional, I promise to exploit you
Give me all your money, and I'll make some origami, honey
I think you're a joke, but I don't find you very funny
My internal monologue is saturated analog
It's scratched and drifting, I've become attached to the idea
It's all a shifting dream, bittersweet philosophy
I've got no idea how I even got here
I'm resentful, I'm having an existential time crisis
Want bliss, daylight savings won't fix this mess
Under-worked and over-sexed, I must express my disinterest
The rats are back inside my head, what would Freud have said?
Put me on a pedestal and I'll only disappoint you
Tell me I'm exceptional, I promise to exploit you
Give me all your money, and I'll make some origami, honey
I think you're a joke, but I don't find you very funny
I wanna wash out my head with turpentine, cyanide
I dislike this internal diatribe when I try to catch your eye
I hate seeing you cry in the kitchen
I don't know why it affects me like this when you're not even mine to consider
Erroneous, harmonious, I'm hardly sanctimonious
Dirty clothes, I suppose we all outgrow ourselves
I'm a fake, I'm a phoney, I'm awake, I'm alone
I'm homely, I'm a Scorpio
Put me on a pedestal and I'll only disappoint you
Tell me I'm exceptional, I promise to exploit you
Give me all your money, and I'll make some origami, honey
I think you're a joke, but I don't find you very funny
Put me on a pedestal and I'll only disappoint you
Tell me I'm exceptional, I promise to exploit you
Give me all your money, and I'll make some origami, honey
I think you're a joke, but I don't find you very funny"
Nobody Really Cares If You Don't Go To The Party:
"You always get what you want
And you don't even try
Your friends hate it when its always going your way
But I'm glad that you've got luck on your side
You're saying definitely maybe
I'm saying probably no
You say "You sleep when you're dead," I'm scared I'll die in my sleep
I guess that's not a bad way to go
I wanna go out but I wanna stay home
I wanna go out but I wanna stay home
Why are you so eager to please?
I wear my heart on my sleeve
Gets harder in the winter, gotta be a fake or shiver
It takes a great deal out of me
Yes I like hearing your stories
But I've heard them all before
I'd rather stay in bed with the rain over my head
Than have to pick my brain up off of the floor
I wanna go out but I wanna stay home
I wanna go out but I wanna stay home"