Watch More of The Impressive Marlon Williams & the Yarra Benders–Last Night on Conan and Elsewhere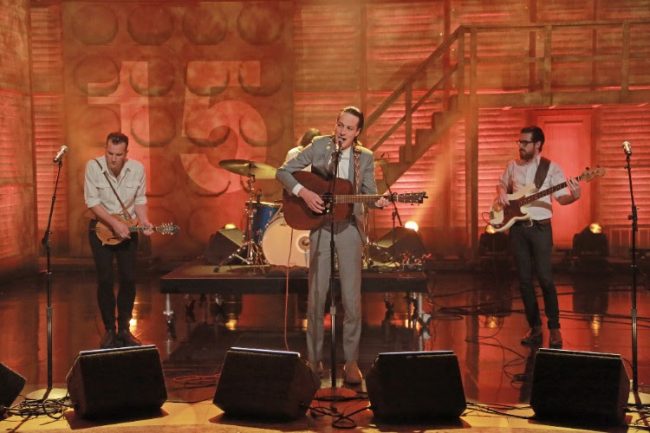 Photo: Meghan Sinclair/TeamCoco
It was only two weeks ago that we first become aware of the impressive Marlon Williams when the Kiwi and pal Ben Wooley opened for the evocative Sam Beam & Jesca Hoop at the Fonda Theater.  We then highlighted his subsequent KCRW session.  Last night Williams & The Yarra Benders appeared on Conan and performed Hello Miss Lonesome a track from his esteemed eponymous album. Watch below as Williams again wows with his vocal-acrobatics (a beguiling mix of Hank Williams, Pavarotti, and Roy Orbison), but especially on the mournful descending cadenza at 2:51. And the Yarra Benders bend it hard too with their harmonies and instrumental pluck. As Conan raved, we are "huge fans." Alt-country has a new poster boy. Bravo!
Afterwards, watch Williams impressively cover Leonard Cohen's Bird On A Wire, Screaming Jay Hawkins' Portrait of a Man, and a Bob Carpenter cover with various helpers.
Go HERE to buy his most recent album.
Williams and band are out on tour now and headed back to Cali in October. Don't ya miss them. For dates and tickets go HERE.