On Sunday: Listen to Jamila Woods' "Holy" and "Way Up" Off Supreme New Album "HEAVN"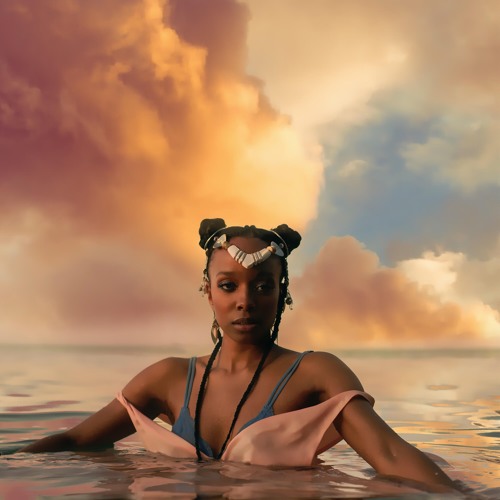 There's a new light on the R&B/Hip-Hop scene, and her name is Jamila Woods.  Straight outta Chicago and part of the ever-burgeoning association of Chance the Rapper affiliates putting out fantastic music, Woods is not afraid to to tell (how it is and of her personal struggles) on her supreme debut album HEAVN.  But with that oh-so-good darkness also comes great light. To get a feel, check out below Woods' uplifting Holy and Way Up (lyrics at bottom).  Knowing that you'll like what you hear, go HERE to listen to more of Woods' great album HEAVN.
We'll have more about this exciting new artist.  In the meantime, enjoy!
Holy:
"Give me today my daily bread
Help me to walk alone ahead
Though I walk through the darkest valley I will fear no love
Oh my smile my mind reassure me I don't need no one
Woke up this morning with my mind set on loving me
With my mind set on loving me
Woke up this morning with my mind set on loving me
With my mind set on loving me
I'm not lonely, I'm alone
And I'm holy by my own
I'm not lonely, I'm alone
And I'm holy by my own
Yay, the bad days may come
The lover may leave
The winter may not
Hey, the map of your palms
The tempo of your beat
You're all that you got
Though I walk through the darkest valley I will fear no love
Oh my smile my mind reassure me I don't need no one
My cup is full, what I got is enough
Nobody completes, don't mess with my stuff
My cup is full, what I got is enough
Nobody completes, don't mess with my love
Surely, surely, surely, surely goodness and mercy shall follow me
Shall follow me
Shall follow me"
Way Up:
"I'm an alien from inner space
They can't read my mind all in my face
No one knows I'd rather spend my days alone on my pillow
I don't care what they say
I've been waiting for so long
Call me by my name
They keep telling me I'm wrong
We are not the same
I don't belong here
I don't belong here
I'm feeling high
My money's gone
Can't find my home
I wanna go
To my own private planet I've been dreaming of
Little moon in my head I be moving on
Up and away
Up and away
Just cos I'm born here
Don't mean I'm from here
I'm ready to run
And rocket to sun
I'm way up
I'm way up
Just cos I'm born here
Don't mean I'm from here
I'm ready to run
And rocket to sun
I'm way up
I'm way up
I'm an alien from inner space
They can't read my mind all in my face
No one knows I'd rather spend my days alone on my pillow
Earth's getting old
So color me gone
I'm ready to run
And rocket to sun
And it ain't so bad
So don't look so sad
Just cos I'm born here
Don't mean I'm from here
Just cos I'm born here
Don't mean I'm from here
I'm ready to run
And rocket to sun
I'm way up
I'm way up
Just cos I'm born here
Don't mean I'm from here
I'm ready to run
And rocket to sun
I'm way up
I'm way up"