Listen to Chuck Prophet's Soul-Searching Cover of Ezra Furman's "If I Was A Baby"–New Album Coming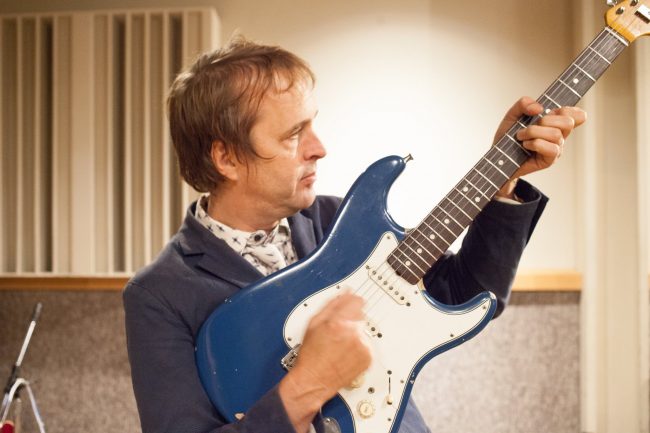 We've been receiving semaphores from the Chuck Prophet hemisphere about a new album in the works. We can't wait for the new release from one of this land's finest songwriters.
In the meantime, Prophet has reminded fans of his high musical net-worth by reiterating the song If I Was A Baby from his last, under-appreciated album gem, Night Surfer. Night Surfer was one of our Best Albums of 2014, and you should pick it up HERE (and now) if you don't already own it. If I Was A Baby is an extremely rare cover by Prophet (if you write songs as well as he does, why bother?). Check out Prophet's cover below of the the song written by talented wordsmith-maestro, Ezra Furman. Prophet's timing may relate to Furman's announced departure from San Francisco to parts unknown. Prophet wows on the recording with his vocal prowess and agnostic seance (not to mention strings and rare use of banjo). Great stuff!
About the song and recording, Prophet says: "This is an Ezra Furman song. I'm a big fan. The drummer went home early that night [during the Night Surfer sessions] so we cut this spontaneously. I think this is from Ezra's first record. He's got a mess of great songs. We were supposed to play some gigs together in the UK on the LFR [Let Freedom Ring!] tour a while back. But he and his band got stopped at UK customs and sent back. I was disappointed, but it also kind of warmed my heart."
After Prophet's masterful cover, check out the Furman original on which Furman's vocals remind of Neil Young circa Goldrush.
All is not lost–keep your mouth on mystery's breast.
If I Was A Baby:
"If I was a baby with nothing to hide
I would be saying prayers all of the time
I would not think of to whom they're addressed
I'd have my mouth on the mystery's breast
Little boy blue in the corn with his horn
Pouring out music the day he was born
Son of a gun and it's holster in love
He can't remember what he is made of
Ooooh
Teenage Maria is caught in the door
Not understanding what her body's for
All of the pieces begin to align
Sick to her stomach she feels like she's flying
Man with a magazine over his face
Wishes that he was in some other place
Life is a waiting room for those who wait
All of it's terrible, all of it's great
Ooooh
Grandfather Elliott out on the beach
Watching Ma's paper blow out of his reach
He cannot tell her his soul could be going
So busy always with his bluster and blowing
If I was a baby and I could be blessed
I would sing true love out of your chest
I get the paper I get myself dressed
I keep my mouth on the mystery's breast
Ooooh"