Back With A Chance–Watch The Rapper and All-Star Performance For the Ages on Fallon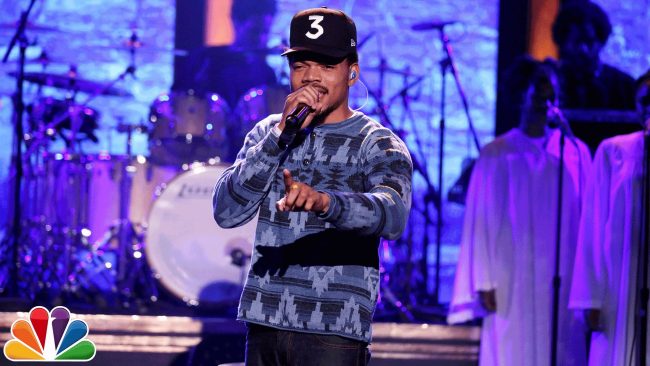 Chance the Rapper originally debuted his blissful track Blessings on Fallon's Tonight Show. Last night he re-appeared on Fallon to perform Blessings (Reprise) (lyrics below) with Anthony Hamilton(!!), Ty Dolla $ign, D.R.A.M., Raury, and a full choir in the audience aisles.  Check it out below.  We love everything about these artists and this performance.
Blessings (Reprise)
"Are you ready? [repeated]
I speak of promised lands
Soil as soft as momma's hands
Running water, standing still
Endless fields of daffodils and chamomile
Rice under black beans
Walked into Apple with cracked screens
And told prophetic stories of freedom
Found warmth in a Black queen for when I get cold
Like Nat King, I'm doing the dad thing
I speak of wondrous unfamiliar lessons from childhood
Make you remember how to smile good
I'm pre-currency, post-language, anti-label
Pro-famous, I'm Broadway Joe Namath
Kanye's best prodigy
He ain't signed me but he proud of me
I got some ideas that you gotta see
Make a vid with shawty and they ship it like the Odyssey
They never seen a rapper practice modesty
I never practice, I only perform
I don't even warn, I don't eat it warm, I won't be reborn
I speak to God in public, I speak to God in public
He keep my rhymes in couplets
He think the newest jam, I think we mutual fans
I used to dance to Michael, I used to dance in high school
I used to pass out music, I still pass out music
The people's champ must be everything the people can't be
I'm getting artsy-fartsy, house full of some Hebru Brantleys
You must've missed the come up, I must be all I can be
Call me Mister Mufasa, I had to master stampedes
I made it through, made it through, made it through
And everything I gave to you, I gave to you, I gave to you
You got it, you got it, you got it, it's coming (Coming, coming, coming)
So are you ready?
Are you ready?
Are you ready for your blessings?
Are you ready for your miracle?
[repeat]"