Watch Nick Cave and The Bad Seeds Perform Hauntingly Beautiful "Girl In Amber" Off New Album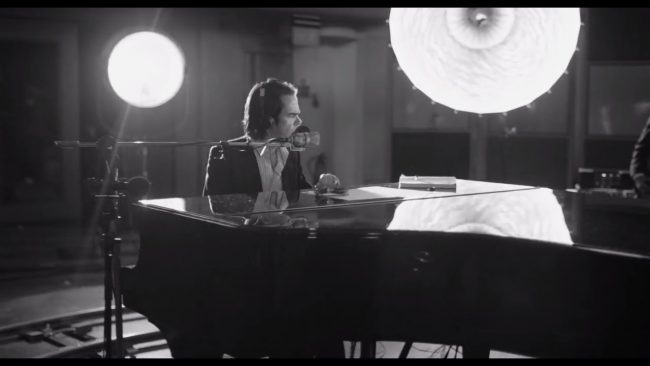 The world fell to its knees when Nick Cave lost his 15-year-old son, Arthur, in a tragic accident last year. Cave and The Bad Seeds have somehow managed to release a harrowing new album entitled Skeleton Tree. As with the raw emotion of Neil Young's Tonight's The Night or On The Beach albums, or Richard and Linda Thompson's I Want To See the Bright Lights Tonight, Skeleton Tree is rife with soul-churning devastation and loss.
While recording the new album, Cave invited director Andrew Dominik to video the process, ultimately resulting in the documentary One More Time With Feeling. Cave has previously released videos from that movie for album songs Jesus Alone and I Need You, but frankly we couldn't handle the harrow and didn't watch for fear of coming unglued. Today Cave has released another video for song Girl In Amber (lyrics at bottom), and while we still are discomfited by the devastation and voyeuristic sensations, Girl In Amber is so hauntingly beautiful that we cannot not sing it's praises. The wordless choral vocals alone are enough to shade the staggering sorrow. May the girl in amber find healing. Check it out below.
Girl In Amber (emphasis added):
"Some go and some stay behind
Some never move at all
Girl in amber trapped forever, spinning down the hall
Let no part of her go unremembered, clothes across the floor
Girl in amber lumber slumber shuts the bathroom door
The phone, the phone, the phone it rings, it rings, it rings no more
The song, the song, the song it spins since nineteen eighty-four
The phone, the phone, the phone, it rings, the phone, it rings no more
The song, the song it's been spinning now since nineteen
And if you want to bleed, just bleed
And if you want to bleed, just bleed
And if you want to bleed, don't breathe
A word
Just step away and let the world spin
And now in turn, you turn
You kneel, lace up his shoes, your little blue-eyed boy
Take him by his hand, go move and spin him down the hall
I get lucky, I get lucky cause I tried again
I knew the world it would stop spinning now since you've been gone
I used to think that when you died you kind of wandered the world
In a slumber till you crumbled, were absorbed into the earth
Well, I don't think that any more
The phone it rings no more
The song, the song it spins now since nineteen eighty-four
The song, the song, the song it spins, it's been a spinning now
And if you'll hold me I will tell you that you know that
And if you want to leave, don't breathe
And if you want to leave, don't breathe
And if you want to leave, don't breathe a word
And let the world turn
The song, the song it spins, the song, it spins, it spins no more
The phone, it rings, it rings
And you won't stay
Don't touch me
Don't touch me
Don't touch me
Don't touch me"