The Perfect Repurposing For These Times: Listen to Okkervil River's Cover of Leonard Cohen's Authoritative "Anthem"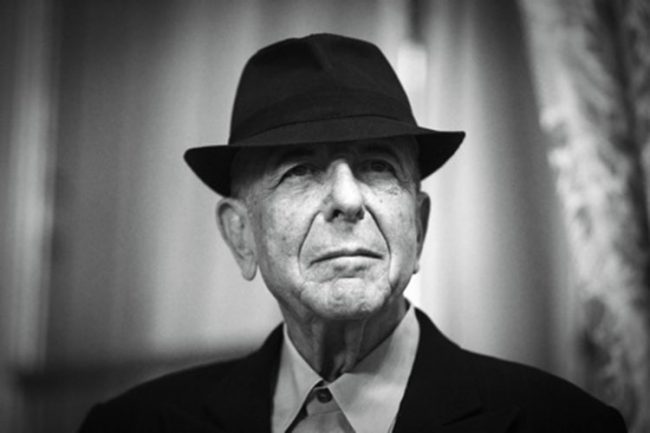 It's times like these…. In the wake of Leonard Cohen's passing nearly a week ago and while finishing up their tour leg in England, Okkervil River honored Cohen by covering his So Long Marianne and his inspirational hymn Anthem.
Okkervil River's Will Sheff then put the latter cover's audio to a picture taken from their travels on a ferry to Germany and posted it with the following statement:
"It's been a terrible week, over here finishing a European tour watching my country slide towards doom. The news of Leonard Cohen's death had nothing to do with everything else in the news but, in my agitated state, seemed somehow like it did. Cohen was a songwriting hero to me. I opened our Bristol show, the morning after the announcement of his death, with this solo cover of 'Anthem,' which sounds distressingly appropriate to the current moment. We did a full band version of 'So Long, Marianne' later in the set. This picture was taken on the ferry from Denmark to Germany. Grey afternoon."
Check out the song's lyrics below, along with the following encouragement by the wondrous Cohen about the song's chorus:
"That is the background of the whole record, I mean if you have to come up with a philosophical ground, that is 'Ring the bells that still can ring.' It's no excuse the dismal situation, and the future is no excuse for an abdication of your own personal responsibilities towards yourself and your job and your love. 'Ring the bells that still can ring': they're few and far between but you can find them. 'Forget your perfect offering' that is the hang-up that you're gonna work this thing out. Because we confuse this idea and we've forgotten the central myth of our culture which is the expulsion from the garden of Eden. This situation does not admit of solution of perfection. This is not the place where you make things perfect, neither in your marriage, nor in your work, nor anything, nor your love of God, nor your love of family or country. The thing is imperfect. And worse, there is a crack in everything that you can put together, physical objects, mental objects, constructions of any kind. But that's where the light gets in, and that's where the resurrection is and that's where the return, that's where the repentance is. It is with the confrontation, with the brokenness of things."
RIP Leonard Cohen.
Anthem:
"The birds they sang
At the break of day
Start again
I heard them say
Don't dwell on what
Has passed away
Or what is yet to be
Ah the wars they will
Be fought again
The holy dove
She will be caught again
Bought and sold
And bought again
The dove is never free
Ring the bells that still can ring
Forget your perfect offering
There is a crack, a crack in everything
That's how the light gets in
We asked for signs
The signs were sent:
The birth betrayed
The marriage spent
Yeah the widowhood
Of every government
Signs for all to see
I can't run no more
With that lawless crowd
While the killers in high places
Say their prayers out loud
But they've summoned, they've summoned up
A thundercloud
And they're going to hear from me
Ring the bells that still can ring
Forget your perfect offering
There is a crack, a crack in everything
That's how the light gets in
You can add up the parts
You won't have the sum
You can strike up the march
There is no drum
Every heart, every heart
To love will come
But like a refugee
Ring the bells that still can ring
Forget your perfect offering
There is a crack, a crack in everything
That's how the light gets in
Ring the bells that still can ring
Forget your perfect offering
There is a crack, a crack in everything
That's how the light gets in
That's how the light gets in
That's how the light gets in"