Watch Aimee Mann's Affecting New Video for "Goose Snow Cone" And Pick Up Her Great New Album "Mental Illness"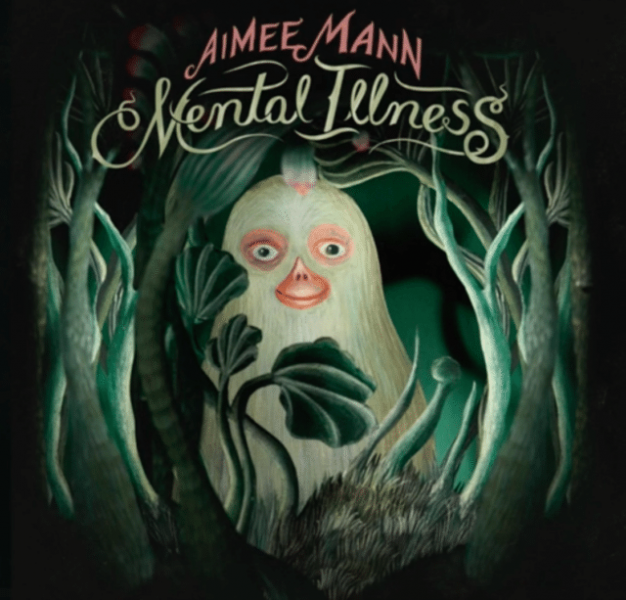 Long-time Lefort-fave Aimee Mann is back with a new, critically-acclaimed album entitled Mental Illness. As usual with this artist, the album (Mann's ninth) features superb songwriting, arrangements and performances that frame well Mann's signature vocals. The sound is a bit more restrained on the new album than on some of her recordings, but sweetly so and embellished by soul-stirring strings, which match well the album's somber themes (whether, as suggested by some, Mann is merely playing into people's perceptions of her as melancholic and putting us on a bit–she's actually oft-hilarious as you can read from her Twitter tweets–or baring all, we leave to you dear discerners).
Today Mann revealed a new video for the affecting song Goose Snow Cone off the album. About the song and video Mann says: "I wrote "Goose Snow Cone" when I was on tour in Ireland, on a cold and snowy day. I was feeling very homesick when I saw a picture on Instagram of a cat I know named Goose. Her fluffy white face was looking up at the camera in a very plaintive way, like a little snowball, and I started singing a little song about her that turned into a song about loneliness. I intended to change the lyrics but could never find a phrase to replace the one I started with. When it came time to make a video, I knew the original Goose had to be in it. Her owners are my friends Rob and Puloma who coincidentally produce and direct videos. One of my cats had recently gone through a long illness and I was thinking about that when I came up with the idea for the video, and I knew Puloma had to star in it, as she has a very lovely and expressive face. The vet in the video is my actual vet and he's a great guy. It was not easy wrangling Goose but the magic of editing makes it all work!"
We completely concur. Oh, and the song is more melodic and moving magic from Mann (lyrics at bottom).
To get more feel for Mental Illness (the album) check out the previously released video for the similarly magical Patient Zero, which you can watch following today's video. Mann is also out on tour in support of the album (see dates below the videos).
You can pre-order Mental Illness in all formats along with various accoutrements HERE. The album will be officially released on March 31st.
AIMEE MANN SPRING TOUR
| | | | | |
| --- | --- | --- | --- | --- |
| Date | Venue | Location | Tickets | Info |
| 04/20/17 | Lincoln Theatre | Washington, DC | | with Jonathan Coulton |
| 04/21/17 | Keswick Theatre | Glenside, PA | | with Jonathan Coulton |
| 04/22/17 | The Town Hall | New York, NY | | with Jonathan Coulton |
| 04/23/17 | The Wilbur | Boston, MA | | with Jonathan Coulton |
| 04/25/17 | Hart Theatre, Egg Center for the Performing Arts | Albany, NY | | with Jonathan Coulton |
| 04/26/17 | Danforth Music Hall | Toronto, ON | | with Jonathan Coulton |
| 04/28/17 | The Ark | Ann Arbor, MI | SOLD OUT | with Jonathan Coulton |
| 04/29/17 | Park West | Chicago, IL | SOLD OUT | with Jonathan Coulton |
| 04/30/17 | Pabst Theater | Milwaukee, WI | | with Jonathan Coulton |
| 05/02/17 | Barrymore Theatre | Madison, WI | | with Jonathan Coulton |
| 05/03/17 | Fitzgerald Theater | St. Paul, MN | | with Jonathan Coulton |
| 05/05/17 | Boulder Theater | Boulder, CO | | with Jonathan Coulton |
| 05/06/17 | The State Room | Salt Lake City, UT | SOLD OUT | with Jonathan Coulton |
| 05/08/17 | The Wilma | Missoula, MT | | with Jonathan Coulton |
| 05/09/17 | Neptune Theatre | Seattle, WA | | with Jonathan Coulton |
| 05/10/17 | Revolution Hall | Portland, OR | SOLD OUT | with Jonathan Coulton |
| 05/12/17 | The Fillmore | San Francisco, CA | | with Jonathan Coulton |
| 05/13/17 | The Theatre at the Ace Hotel | Los Angeles, CA | | with Jonathan Coulton |
Goose Snow Cone:
"Lookin' into the face of the goose snow cone
Should be shaking it loose but you do it alone
Every look is a truce and it's written in stone
Gotta keep it together when your friends come by
Always checking the weather but they wanna know why
Even birds of a feather find it hard to fly
Thought I saw at my feet an origami crow
It was only the street hidden under the snow
Always snatching defeat, it's the devil I know
Gotta keep it together when your friends come by
Always checking the weather but they wanna know why
Even birds of a feather find it hard to fly
Lookin' into the face of the goose snow cone
I could pick up the pace but I couldn't go on
I just wanted a place but I ended up gone
Gotta keep it together when your friends come by
Always checking the weather but they wanna know why
Even birds of a feather find it hard to fly
Lookin' into the face of the goose snow cone"