Supergroup Sufjan Stevens, Nico Muhly, Bryce Dessner (The National) and James McAlister To Release "Planetarium" Album–Listen to "Mercury," "Saturn" and "Jupiter"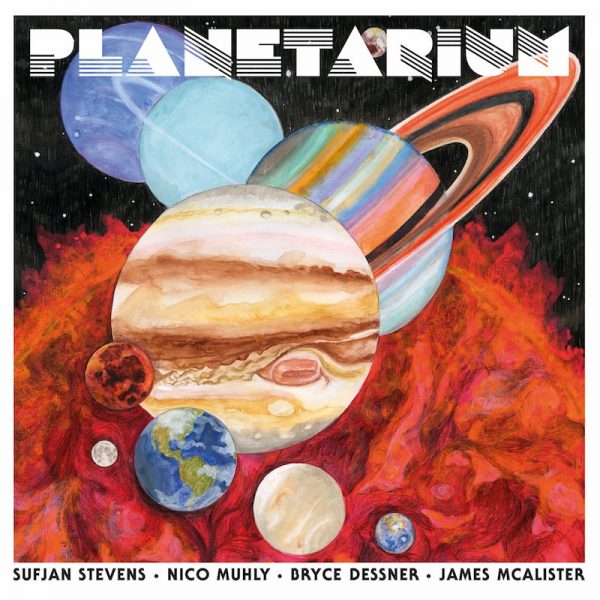 Almost exactly one century after British composer Gustav Holst composed and first performed his seminal symphonic piece The Planets, Sufjan Stevens, Bryce Dessner (The National), Nico Muhly, and drummer James McAlister will release an album of their own composition, Planetarium (see tracklist at bottom). Coincidence? We think not. One could think of Planetarium (loosely) as the updated, remixed, and extended The Planets, coupled with Steven's stirring lyrics and vocals added. The ensemble first composed and performed Planetarium for the Brooklyn Academy Of Music in 2013 (watch their outstanding performance of Jupiter at BAM below) and are finally releasing the recorded version on June 9th.
To get a feel, the group today orbited the stirring track Mercury, the last piece on the album (which you can listen to below). They have previously revealed Saturn (listen after Mercury). As beautiful as the compositions are, neither Mercury nor Saturn seem particularly hospitable to humans with darkness aplenty (you know, like most of Stevens' outstanding output). We can't wait to dive deeper into this musical solar system.
The group has also announced the following tour dates to perform Planetarium, including at Hollywood Forever Cemetery:
07-10 Paris, France – Philharmonie de Paris
07-18 Brooklyn, NY – Prospect Park
07-20 Los Angeles, CA – Hollywood Forever Cemetery
07-21 Oakland, CA – Fox Theater
Planetarium is out June 9th on 4AD which you can pre-order HERE. 
Planetariun tracklisting:
01. Neptune
02. Jupiter
03. Halley's Comet
04. Venus
05. Uranus
06. Mars
07. Black Energy
08. Sun
09. Tides
10. Moon
11. Pluto
12. Kuiper Belt
13. Black Hole
14. Saturn
15. In The Beginning
16. Earth
17. Mercury