Watch Well-Captured Videos of Radiohead Performing Three Magnificent Songs at Coachella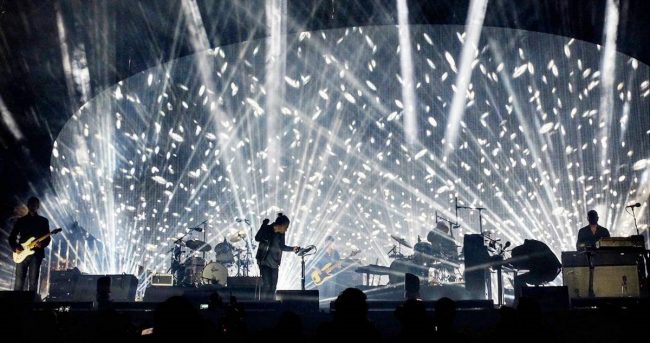 Despite the much-lamented sound issues that occurred during Radiohead's headlining set last Friday at Coachella, as always the band triumphed in the end. We could speak (and have spoken) volumes about Radiohead and its exalted heights in music history, but it's worth noting that this band remains (over 25 years after initially forming) one of the very few bands that refuses to give up and retrench and continues to innovate and renovate as a band. As when they slayed last Tuesday at the comparatively-diminutive Santa Barbara Bowl, the band could be heard  at the height of their powers during the webcast from Coachella. To get a feel for the Coachella and Santa Barbara Bowl sets, watch below three very well-captured videos of the band at Coachella.  Nude is particularly astounding owing to Thom Yorke's operatic vocals. But Idiotique and Paranoid Android were not performed at the Santa Barbara Bowl, and each warrants repeated viewings (if for no other reason than Ed O'Brien's superb harmony vocalists and interplay with Yorke, but also the addition of Middle Eastern elements to Idiotique and the band's confident swagger, inspired guitar of Jonny Greenwood, and Yorke's flawless vocals to go with O'Brien on Paranoid Android).
Don't forget to watch (HERE) the webcast of Radiohead's headlining set at Coachella this Friday night (we assume again at 10:40 pm, but please do double-check).