Live Review: Feist Provides Pure 'Pleasure' at The Palace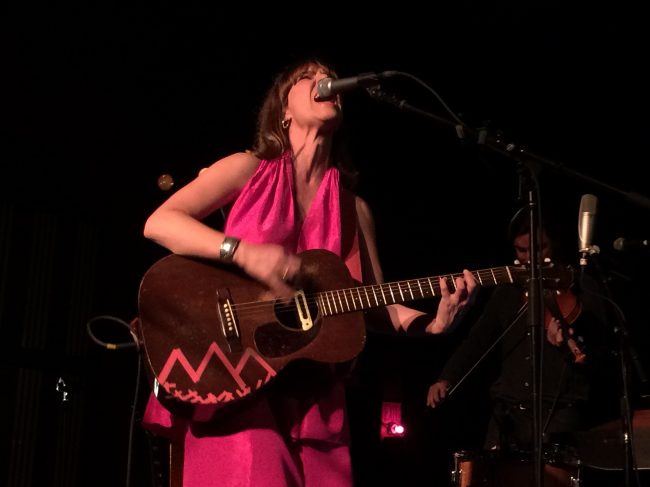 Until Saturday night we had never been at the right place at the right time to catch one of the fabulous Feist's shows. When Leslie Feist, one of our all-time favorite artists, announced she would hold a three-night residency at the intimate Palace Theater in LA, the stars finally aligned. Anticipation ran high as Feist took the stage at the sold out venue with her superb three-piece band (two multi-instrumentalists/vocalists and drummer Paul Taylor). With her fantastic new album Pleasure only a week old, it was no surprise that her set focused on the plenty-pleasurable songs from the new album, all of which took on added luster, emotion and nuance live. It says volumes about the quality of Pleasure that at concert's end its songs ranked right up there with the older favorites that Feist would go on to perform.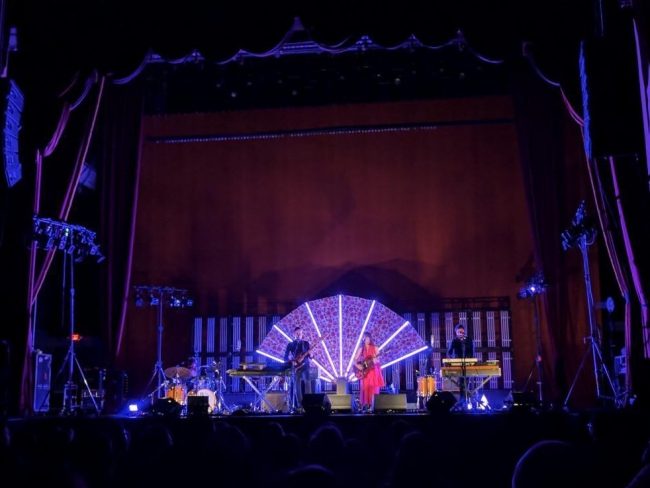 Photo by Lizzie Willett
Beginning with the title track, Feist performed the entire album in sequence before adding on a mix of "golden oldies" (her words). Sporting a full-length pink dress, Feist ferociously fingered her guitar on the propulsive and rowdy Pleasure and the audience erupted as the song came crashing to its powerful close. In addition to her astonishing, signature vocals, Feist is a gifted guitar player with masterful chops and a charming stage presence. She beguiled throughout the night. While difficult to single-out highlights from the Pleasure portion of the show, the comparatively delicate Lost Dreams (with its perfectly looped vocals and guitar) was found dreamy. And the dynamic Any Party (possibly our favorite song off the new album) wowed with its rambunctious romanticism, Feist's stentorian vocals and a fabulous Feist-led sing-along of the chorus ("You know I'd leave any party for you/ 'cause no party is as sweet as our party of two"). On Any Party (and also on Baby Be Simple and A Man Is Not His Song) her vocals echoed legendary fellow-Canadian chanteuse Mary Margaret O'Hara [Ed: at bottom, watch Any Party as performed Sunday night at the Palace, with Feist's long-time collaborator, LA-resident drummer/composer/producer Mocky guesting on drums]. Century was a forceful wall of sound (and lights), complete with Jarvis Cocker's spoken-word interlude. I'm Not Running Away was powerful (see Toronto performance below), with Feist wailing on her bluesy electric guitar and soaring on vocals. The stay-young Young Up closed the Pleasure portion on a strong and encouraging note, with Feist fist-pumping along.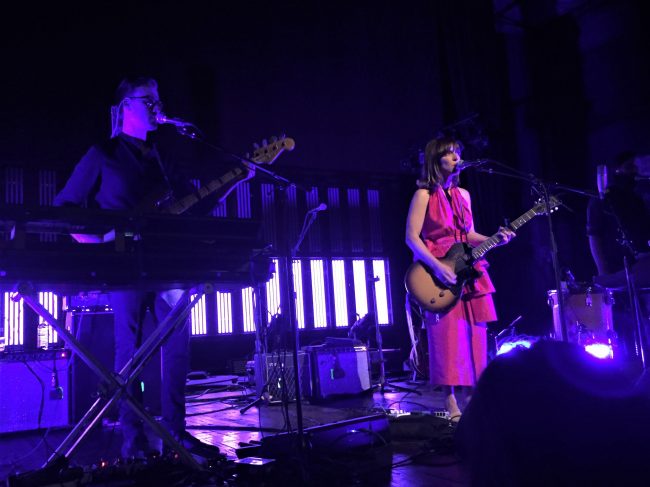 Photo by Lefort
Feist was in good spirits throughout her set, introducing songs, chatting with the audience and repeatedly leading clapping and singalong sequences. She introduced the A Man Is Not His Song by dedicating the song to her Broken Social Scene pal Kevin Drew who was in attendance ("Kevin, you were the first to hear these songs."). She would later introduce 2007 hit I Feel It All, off of The Reminder, by reminiscing about touring in 2007 on a tour bus with then-openers Grizzly Bear, whose Ed Droste was also in the audience ("they've got a new album and I've got a new album…hmmm").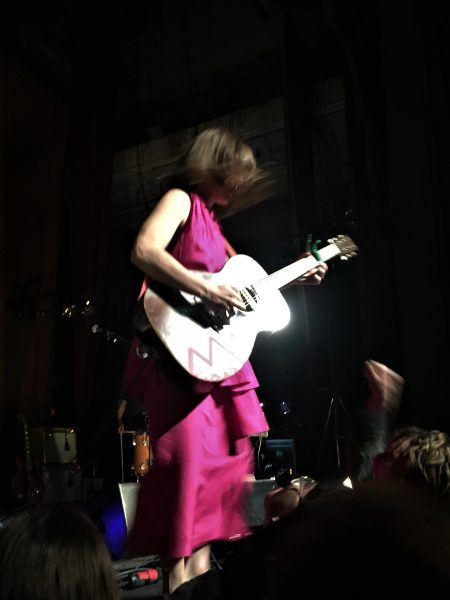 Photo by Hannah McDaniel
Following Pleasure, the set moved into its "golden oldies" portion, with Feist inviting any slow-dance couples to come in front of the stage and do so ("like that scene from Back to The Future"). The audience heeded her call and rushed the stage for the crowd-pleasing remainder. On both My Moon My Man and Sea Lion Feist instigated crowd-clapping and sing-alongs to great effect. A stripped down, but revved-up version of her classic I Feel It All was revelatory (still) and joy-filled. Let It Die followed with Feist evincing her soulful vocal prowess to great effect. For the encore, Feist performed a rearranged, tempered version of her mega-hit 1234, allowing the song's lyrics to take on a more sepia-toned, sagacious tone. Beauty.
After almost two hours of musical perfection, our losing streak had been broken. We had finally witnessed live one of the most talented artists of this generation. Vive la Feist!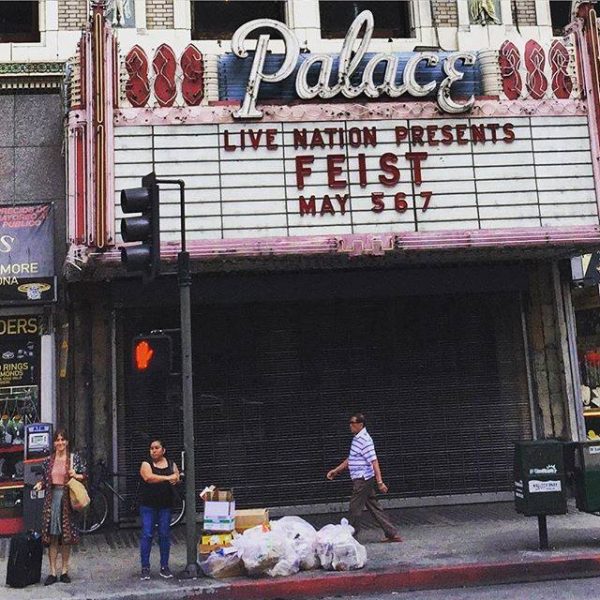 Photo of Feist (lower left corner) from @feistmusic