The National Deliver Spectacular New Sounds in Song; Announce Impending Album and World Tour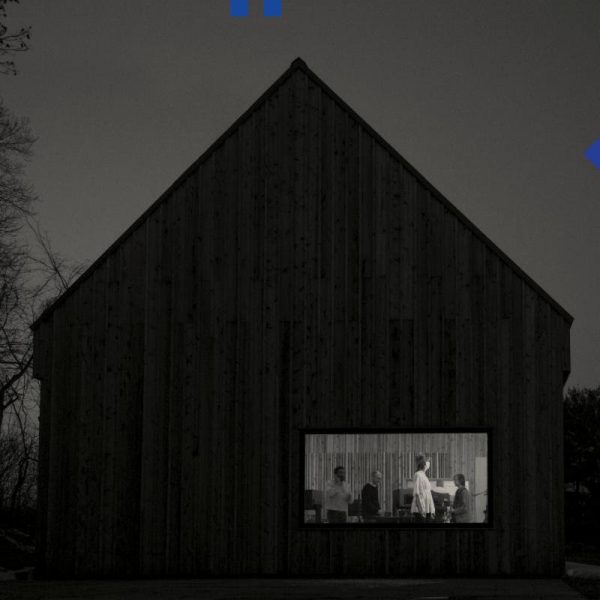 While you were sleeping or up all night talking to God, The National released a video (below) for new song The System Only Dreams in Total Darkness and announced that their highly-anticipated next album, Sleep Well Beast, will be released on September 8th on 4AD. Sleep Well Beast was produced by the band's Aaron Dessner with co-production by twin Bryce Dessner and singer Matt Berninger. The album was recorded at Long Pond, Aaron Dessner's Hudson Valley, New York studio, with added recording sessions in Berlin, Paris & Los Angeles.
The System Only Dreams in Total Darkness (lyrics at very bottom) is a spectacular intro to the album, opening with Brian Wilson-esque high-harmonies and showing new musical cards, including agitated guitars, synthesized sounds and a ripping classic-guitar solo to go with Berninger's vocals and the much-loved gestalt of the band. Check out the Casey Reas-directed video below.
Sleep Well Beast is available for pre-order HERE.
The band also announced a World Tour in support of the album beginning in September, with several California shows in October. See list of dates at bottom. Word to the wise: you need to pre-register to enter the lottery for the ticket pre-sale that begins Monday, May 15th HERE.  Public sale begins Friday, May 19th. Every ticket in North America will include a digital copy of Sleep Well Beast delivered on September 8th.
TRACK LIST:
Nobody Else Will Be There
Day I Die
Walk It Back
The System Only Dreams in Total Darkness
Born to Beg
Turtleneck
Empire Line
I'll Still Destroy You
Guilty Party
Carin at the Liquor Store
Dark Side of the Gym
Sleep Well Beast
WORLD TOUR:
06/21/17 – Glastonbury Festival – Glastonbury, UK
08/12/17 – HAVEN Festival – Copenhagen, DENMARK
9/16/17 – Cork Opera House / Sounds From a Safe Harbour – Cork, IRELAND
9/17/17 – Vicar Street – Dublin, IRELAND
9/18/17 – Vicar Street – Dublin, IRELAND
9/20/17 – Usher Hall – Edinburgh, UK
9/21/17 – Usher Hall – Edinburgh, UK
9/22/17 – O2 Apollo – Manchester, UK
9/23/17 – O2 Apollo – Manchester, UK
9/25/17 – Eventim Hammersmith Apollo – London, UK
9/26/17 – Eventim Hammersmith Apollo – London, UK
9/27/17 – Eventim Hammersmith Apollo – London, UK
9/28/17 – Eventim Hammersmith Apollo – London, UK
10/05/17 – Wang Theatre – Boston, MA
10/06/17 – Forest Hills Stadium – New York, NY
10/11/17 – Hollywood Bowl – Los Angeles, CA
10/12/17 – CalCoast Credit Union Open Air Theatre – San Diego, CA
10/14/17 – Greek Theatre – Berkeley, CA
10/21/17 – Elbphilharmonie – Hamburg, GERMANY
10/23/17 – Tempodrom – Berlin, GERMANY
10/24/17 – Tempodrom – Berlin, GERMANY
10/25/17 – AFAS Live – Amsterdam, THE NETHERLANDS
10/28/17 – Coliseum – Lisbon, PORTUGAL
10/30/17 – Bozar – Brussels, BELGIUM
10/31/17 – Bozar – Brussels, BELGIUM
11/02/17 – 11/04/17 – Pitchfork Paris, Paris FRANCE
11/04/17 – Annexet – Stockholm, SWEDEN
11/05/17 – Annexet – Stockholm, SWEDEN
11/06/17 – Sentrum Scene – Oslo, NORWAY
11/07/17 – Sentrum Scene – Oslo, NORWAY
11/27/17 – Arlene Schnitzer Concert Hall – Portland, OR
11/28/17 – Paramount Theatre – Seattle, WA
11/29/17 – Paramount Theatre – Seattle, WA
12/01/17 – Queen Elizabeth Theatre – Vancouver BC, CANADA
12/02/17 – Queen Elizabeth Theatre – Vancouver BC, CANADA
12/04/17 – Verizon Hall – Philadelphia, PA
12/07/17 – Metropolis – Montreal QC, CANADA
12/08/17 – Metropolis – Montreal QC, CANADA
12/09/17 – Sony Centre – Toronto ON, CANADA
12/10/17 – Hamilton Place Theatre – Hamilton ON, CANADA
12/12/17 – Civic Opera House – Chicago, IL
12/13/17 – Civic Opera House – Chicago, IL
The System Only Dreams in Total Darkness:
"Maybe I listen more than you think
And I can tell that somebody sold you
We said we've never let anyone in
We said we'd only die of lonely secrets
The system only dreams in total darkness
Why are you hiding from me?
We're in a different kind of thing now
All night you're talking to God
I thought that this would all work out after a while
Now you're saying that I'm asking for too much attention
Also no other faith is light enough for this place
We said we'd only die of lonely secrets
The system only dreams in total darkness
Why are you hiding from me?
We're in a different kind of thing now
All night you're talking to God
I can't explain it
How I'm any other, any other way
I can't explain it
How I'm any other, any other way"