Music Warmer Than Blood: Check Out Iron & Wine's New Song "Call It Dreaming" Off Upcoming Album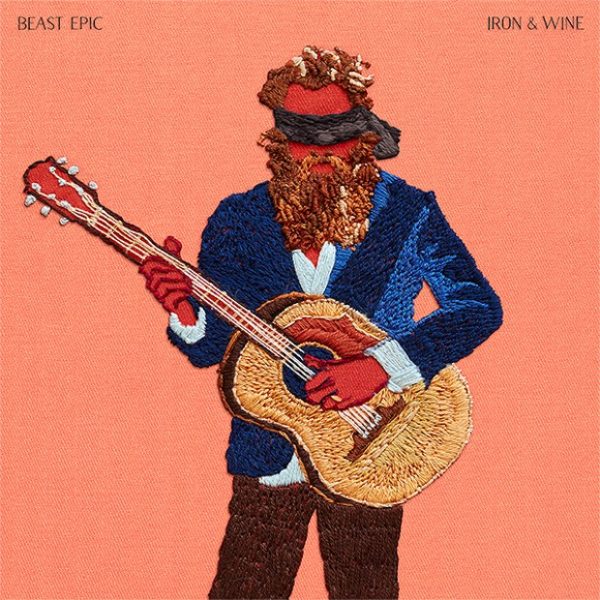 The past twelve months have been halcyon music days for West Coast fans of Iron & Wine and its leader Sam Beam. During that time, Beam has passed through these parts performing live at least three times, once with Jesca Hoop in support of their mesmerizing Love Letter for Fire album, and twice while getting back-to-basics with stirring solo outings. And Beam hasn't otherwise just been lolling around, having managed to release a covers album with Band of Horse's Ben Bridwell and release additional Archive recordings. And if that weren't enough, we now know Beam has been laboring on a proper new Iron & Wine album, entitled Beast Epic, that will be released on Sub Pop on August 25th (the ensemble's first since 2013's fine Ghost On Ghost album). To give a feel for the new beast, Iron & Wine has given us the album's Call It Dreaming single in the form of a heart-and-blood-warming video directed by J. Austin Wilson. Check it out below, followed by the new album's tracklist, the band's announced tour dates (with some great openers) and Call It Dreaming's lyrics. We can't wait for Beast Epic!
You can pre-order the new album HERE.
Beam shared a rare missive regarding the new album:
"I must confess that I've always shied away from album introductions citing the usual "dancing to architecture" cop out. Speaking to their own work is uncomfortable for many artists, but I've made a new album called Beast Epic which is important to me and I wanted to take a moment to talk about why. I've been releasing music for about fifteen years now and I feel very blessed to have put out five other full lengths, many EPs and singles, a few collaborations with people much more talented than myself, and made contributions to numerous movie scores and soundtracks. This is my sixth collection of new Iron & Wine material and I'm happy to say that it's my fourth for Sub Pop Records.

It's a warm and serendipitous time to be reuniting with my Seattle friends because I feel there's a certain kinship between this new collection of songs and my earliest material, which Sub Pop was kind enough to release. In hindsight, both The Creek Drank the Cradle (2002) and Our Endless Numbered Days (2004) epitomize a reflective and confessional songwriting style (although done with my own ferocious commitment to understatement, of course.) I have been and always will be fascinated by the way time asserts itself on our bodies and our hearts. The ferris wheel keeps spinning and we're constantly approaching, leaving or returning to something totally unexpected or startlingly familiar. The rite of passage is an image I've returned to often because I feel we're all constantly in some stage of transition. Beast Epic is saturated with this idea but in a different way simply because each time I return to the theme I've collected new experiences to draw from. Where the older songs painted a picture of youth moving wide-eyed into adulthood's violent pleasures and disappointments, this collection speaks to the beauty and pain of growing up after you've already grown up. For me, that experience has been more generous in its gifts and darker in its tragedies.

The sound of Beast Epic harks back to previous work, in a way, as well. By employing the old discipline of recording everything live and doing minimal overdubbing, I feel like it wears both its achievements and its imperfections on its sleeve. Over the years, I've enjoyed experimenting with different genres, sonics and songwriting styles and all that traveled distance is evident in the feel and the arrangements here, but the muscles seemed to have relaxed and been allowed to effortlessly do what they do best.

I've been fortunate to get to play with some very talented musicians over the years who are both uniquely intuitive and also expressive in exciting ways. This group was no different. We spent about two weeks recording and mixing but mostly laughing at The Loft in Chicago.

To be honest, I've named this record BEAST EPIC mostly because it sounds really fucking cool! However, with that said and perhaps to be completely honest, "a story where animals talk and act like people" sounds like the perfect description for the life of any of us. If not that, then it's at least perfect for any group of songs I've ever tried to make. I hope you enjoy it."
Tracklist:
01 "Claim Your Ghost"
02 "Thomas County Law"
03 "Bitter Truth"
04 "Song In Stone"
05 "Summer Clouds"
06 "Call It Dreaming"
07 "About A Bruise"
08 "Last Night"
09 "Right For Sky"
10 "The Truest Stars We Know"
11 "Our Light Miles"
12 "Heart Walk Anywhere" (Deluxe Edition Track)
13 "Kicking The Old Rain (Deluxe Edition Track)
14 "About A Bruise (Demo)" (Deluxe Edition Track)
15 "Claim Your Ghost (Demo)" (Deluxe Edition Track)
16 "Summer Clouds (Demo)" (Deluxe Edition Track)
Tour Dates and Tix:
28 June
– Portsmouth, NH . Prescott Park Arts Festival (solo) –
FREE
29 June
– Canandaigua, NY . CMAC (solo, support for Jason Isbell) –
TIX
22 July
– Austin, TX . Paramount – Annual Midwives Benefit # –
TIX
26 Aug
– Fayetteville, AR . Fayetteville Roots Festival –
TIX
27 Aug

– Columbia, MO . The Blue Note $ – TIX


28 Aug

– Chattanooga, TN . Tivoli Theatre $ – TIX


29 Aug

– Birmingham, AL . Saturn $ – TIX


12 Oct

– Chicago, IL . Thalia Hall – TIX


13 Oct

– Chicago, IL . Thalia Hall – TIX


14 Oct

– St. Paul, MN . Palace Theatre – TIX


15 Oct

– Lincoln, NE . Rococo Theatre ^ – TIX


17 Oct

– Missoula, MT . The Wilma ^ – TIX


18 Oct

– Seattle, WA . Moore Theatre – TIX


19 Oct

– Eugene, OR . McDonald Theatre ^ – TIX


20 Oct

– Portland, OR . Aladdin Theater – TIX


21 Oct

– San Francisco, CA . The Warfield – TIX
26 Oct

– Los Angeles, CA . The Cathedral Sanctuary – TIX


27 Oct

– Pioneertown, CA . Pappy & Harriet's – TIX


28 Oct

– San Diego, CA . Balboa Theatre ^ – TIX


29 Oct

– Phoenix, AZ . The Van Buren ^ – TIX


30 Oct

– Albuquerque, NM . El Rey Theater ^ – TIX


1 Nov

– Dallas, TX . Kessler Theater ^ – TIX


2 Nov

– San Antonio, TX . Aztec Theatre ^ – TIX


3 Nov

– Houston, TX . The Heights Theater ^ – TIX


4 Nov

– New Orleans, LA . The Joy Theater ^ – TIX


6 Nov

– Fort Lauderdale, FL . Culture Room ^ – TIX


7 Nov

– Orlando, FL . The Beacham ^ – TIX


9 Nov

– Washington, DC . Lincoln Theatre ^ – TIX


10 Nov

– New Haven, CT . College Street Music Hall ^ – TIX


11 Nov

– Boston, MA . Berklee Performance Center – TIX


12 Nov

– Northmapton, MA . Calvin Theatre ^ – TIX –
no fan club presale for this date
13 Nov

– New York, NY . The Town Hall – TIX


14 Nov

– Brooklyn, NY . Brooklyn Steel * – TIX
Call It Dreaming:
"Say it's here where our pieces fall in place
Any rain softly kisses us on the face
Anywhere means we're running
We can sleep and see 'em coming
Where we drift and call it dreaming
We can weep and call it singing
Where we pray when our hearts are strong enough
We can bow 'cause our music's warmer than blood
Where we see enough to follow
We can hear when we are hollow
Where we keep the light we're given
We can lose and call it living
Where the sun isn't only sinking fast
Every night knows how long it's supposed to last
Where the time of our lives is all we have
And we get a chance to say
Before we ease away
For all the love you've left behind
You can have mine
Say it's here where our pieces fall in place
We can fear 'cause the feeling's fine to betray
Where our water isn't hidden
We can burn and be forgiven
Where our hands hurt from healing
We can laugh without a reason
'Cause the sun isn't only sinking fast
Every moon in our bodies make shining glass
Where the time of our lives is all we have
And we get a chance to say
Before we ease away
For all the love you've left behind
You can have mine"