Review: Planetarium Brings New Life to Songs Among the Dead at Hollywood Forever Cemetery (7/20)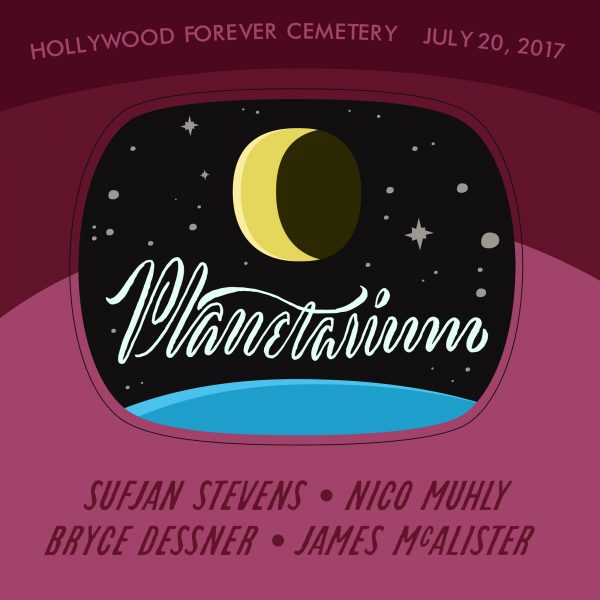 Artwork by Tad Wagner*
Never has the phrase "the music really came alive live" been more apropos than among the dead at the Hollywood Forever Cemetery last night when Planetarium (Sufjan Stevens, Bryce Dessner, Nico Muhly and James McAlister) imbued serious new life into their serious songs. If we're being honest, the Planetarium album is not a light or uncomplicated affair (even for students/fans of classical music–Ed.: guilty), and its seriousness can, at times, gravely hold down the celestial affair. On this tour, however, Planetarium has smartly stripped out some of the instrumental segments and classical-arrangements, and added energetic tempos and playing, leaving a set that is more song-oriented and enthralling (but without losing any of the dynamism or complexities of the album).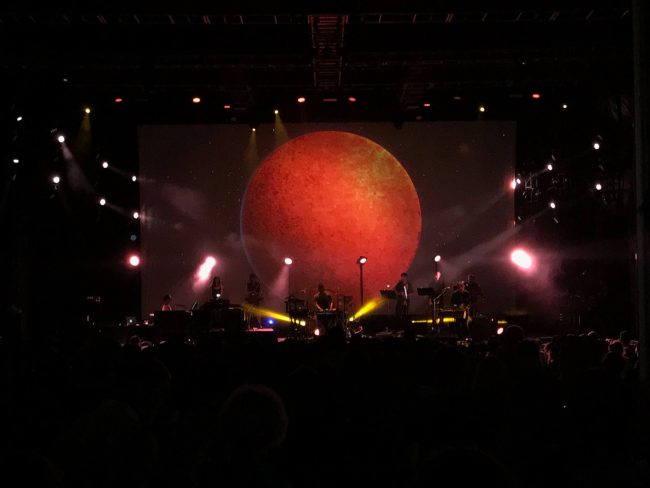 Though Planetarium added two violinists and four horns (the "chamber players") to their show, it was really the performances of the four main members that breathed new life into the songs. Stevens is always fantastic live, with his vocal gymnastics, instrumental/electronics/autotune acumen, storytelling and genuineness with his audience. Just as impressive was The National's Bryce Dessner who stepped out of the album's shadows and let his guitar playing shine, with complex runs, fierce strumming and impassioned stage-presence (Dessner also became only the third guitar player we've seen successfully employ a bow on his guitar–the other two being mere slouches Jimmy Page during the '75 Zeppelin tour and Jonny Greenwood during Radiohead's 2008 tour). In addition to his arrangements, Nico Muhly led well from his keyboard, adding compelling piano, organ and electronica flourishes. Finally, James McAlister added stentorian percussion ranging from his knock-ya-down kick-drum to subtly-complex tom and cymbal embellishments. Together, they seriously enlivened the proceedings and surroundings.
Highlights from the set were opener Neptune, Jupiter, a shining Sun, a powerfully-kinetic Saturn, the all-important Earth and the "hit," Mercury. Planetarium would return for their encore to perform two poignant, celestial-themed sing-alongs to the dead. First was the seminal Somewhere Over the Rainbow, which was sung/autotuned superbly by Sufjan to Judy Garland (pictured behind the stage) who is now buried at Hollywood Forever Cemetery.  And they closed the show with a chill-inducing, powerful performance of David Bowie's Space Oddity.  'Twas a perfect ending to a great show.
Their show at the hallowed Hollywood Forever Cemetery was one of only four performances worldwide in support of their album. They close out their tour tonight in Oakland at the Fox Theater. Be there!
*Tad Wagner is a gifted artist, illustrator, letterer, musician and all-around great human who provides concert review artwork for the The Lefort Report.