Sufjan Stevens, Bryce Dessner, Nico Muhly and James McAlister Perform on Colbert Tonight–Watch New Video for "Neptune"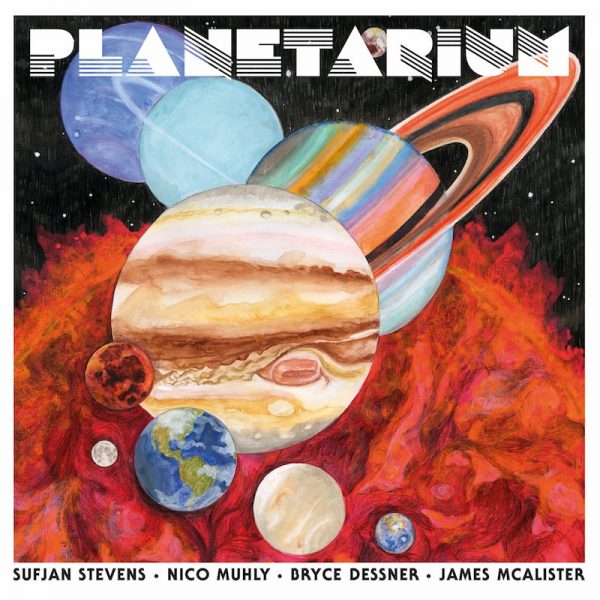 We've written repeatedly about Sufjan Stevens' stellar (if you will) project Planetarium with Bryce Dessner, Nico Muhly and James McAlister. Tonight you can see what all the hubbub's about when the group performs on Colbert's Late Show. In addition, the group today released a new lyric video for celestial song Neptune (lyrics at bottom). Check it out below.
The ensemble is performing a total of four Planetarium shows worldwide (see below), including this Thursday (July 20th) at Hollywood Forever Cemetery. Tickets are still available so be there!
7-10 Paris, France – Philharmonie de Paris
7-18 Brooklyn, NY – Prospect Park
7-20 Los Angeles, CA – Hollywood Forever Cemetery
7-21 Oakland, CA – Fox Theater
Planetarium is out on 4AD, and you can order it HERE. 
Neptune:
"What's right and what's wrong?
Don't you hold me too lightly to words
As I've rounded them off to the nearest of ten
For I gathered your body in envious capture in envious thought
Oh forgive me, oh gods or forgive me in fortune
Forgive me in feeling it out for myself
As I ought to have feelings for something as great as thou art
Some great white rose of youth
Your pleasure gives of my own heart
Generous portions wisely
Breaks of my own heart
I felt the arm's length while I've gone on my own way
Conserve me, strange waters
Come and obey me, strange waters
Have it your own way
So if you won't hold me, I have no objections
So if you won't please me
I make no commands
So if you don't trust me, it's best if I drown"