Watch Spoon's Stripped-Down Performance of "Hot Thoughts" on Studio Q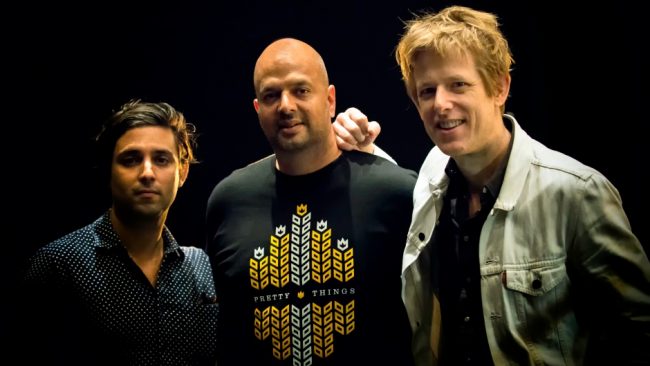 Almost without exception, when artists strip down and de-husk songs the remaining kernel reveals so much more about the song's spark. Such is the case with Spoon's performance below of Hot Thoughts for Canada's Studio Q. Check out the redacted guitar-and-percussion treatment (minus Producer Dave Fridmann's strings and bells), all of which helps to emphasize Britt Daniels' telling Prince-inspired mien (lyrics at bottom). Hot Thoughts is the title track from Spoon's critically-acclaimed recent album. You can buy/stream it HERE.
Britt Daniel told Esquire that a Japanese kid in Shibuya hitting on his girlfriend with this line was what inspired Hot Thoughts: "He was smoking a cigarette, and couldn't really speak English, but was pointing to her teeth and saying her teeth were so sexy and bright. And I thought that was a pretty far out, maybe desperate but funny way of hitting on her." Ah, new love and the omnipresent interceptors.
"Hot thoughts melt in my mind
Could be your accent mixing with mine
You got me uptight, twisting inside
Hot thoughts all in my mind and all of the time, babe
Hot thoughts all in my mind and all of the time, yeah
Hot thoughts all in, all in my mind all of the time
(Woo!)
Your teeth shining so white
Light up this side street in Shibuya tonight
Hot thoughts melting my cool
Is it your motion signaling cues
Hot thoughts all in my mind and all of the time
You must be trouble for sure
Hot thoughts all in my mind and all of the time, yeah
(Oh oh, oh oh oh)
I tell it to you slow when I want you to know
(Oh oh, oh oh oh)
Hot thoughts all in, all in my mind all of the time
Took time off from my kingdom
Took a break from the war
Took time off from my kingdom
Raise up my creatures
Diamonds from space
Pure facets and features
Last drag drug from your lips
Making you think how good it was to let baby kiss 'em
And those hot thoughts melting your cool
(All on my mind and all of the time)
Could be that motion signaling cues
You've got
Hot thoughts all in your mind all of the time, yeah
(Oh oh, oh oh oh)
All that do my rhyme maketh you mine, yeah
(Oh oh, oh oh oh)
You know, I think all, I think all your love is enough"