Watch Official Video for Acoustic "Powderfinger" from Neil Young's Superb Archival "Hitchhiker" Release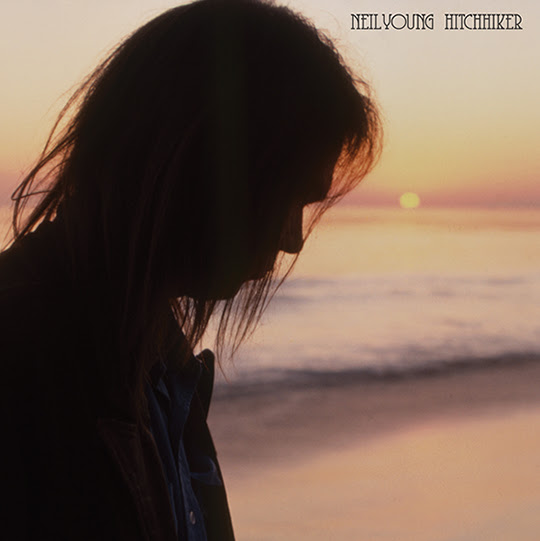 Like many, we've been life-long Neil Young fans. From Buffalo Springfield, to CSN&Y, to all the solo albums (we'll take On The Beach if we have to take but one to that Desert Island), to all the collaborations, to all the cathartic concerts at the Santa Barbara Bowl, the Bridge School Benefit Concerts and elsewhere, we've lived a happy musical lifetime with Young. His best-of-all-time bona fides are unchallenged.
After recording a harrowing hat-trick of nonpareil albums (On The Beach, Tonight's The Night and Zuma), on August 11, 1976, Young recorded a solo acoustic album entitled Hitchhiker in a single session with his producer David Briggs at Malibu's Indigo Ranch Studios.  That album never made the light of day (though most of its songs appeared elsewhere) until September 8th when Young released it. Among its treasures are acoustic versions of Pocohantas, Campaigner, Ride My Llama, The Old Country Waltz and the powerful Powderfinger.
Best remembered as a rock-anthem featured on the Rust Never Sleeps album, the acoustic version of Powderfinger found on Hitchhiker is a tremendous distillation of the song's anti-gun/war/violence theme. To aid in our understanding of the lyrics (after all these years and debates), Young has today released a superb, sepia-toned, watercolor video that provides a straightforward narrative for the song (see lyrics at bottom). We love the solo acoustic performance, Young's vocals and the video. It all adds up to everything. Check the video below, followed by the electric version and the song's lyrics at bottom.
And go buy/stream Hitchhiker HERE.
Powderfinger:
"Look out, Mama, there's a white boat coming up the river
With a big red beacon, and a flag, and a man on the rail
I think you'd better call John
Because it don't look like they're here to deliver the mail
And it's less than a mile away
I hope they didn't come to stay
It's got numbers on the side and a gun
And it's making big waves
Daddy's gone, my brother's out hunting in the mountains
Big John's been drinking since the river took Emmy-Lou
So the Powers That Be left me here to do the thinkin'
And I just turned twenty-two
I was wondering what to do
And the closer they got
The more those feelings grew
Daddy's rifle in my hand felt reassuring
He told me, Red means run, son, numbers add up to nothing
But when the first shot hit the docks I saw it coming
Raised my rifle to my eye
Never stopped to wonder why
Then I saw black
And my face splashed in the sky
Shelter me from the powder and the finger
Cover me with the thought that pulled the trigger
Think of me as one you'd never figured
Would fade away so young
With so much left undone
Remember me to my love
I know I'll miss her"