Alyeska Is A Musical Force For the Future–Check Out Our Favorite Track "Ribs and Greens" Off Stellar "Crush" EP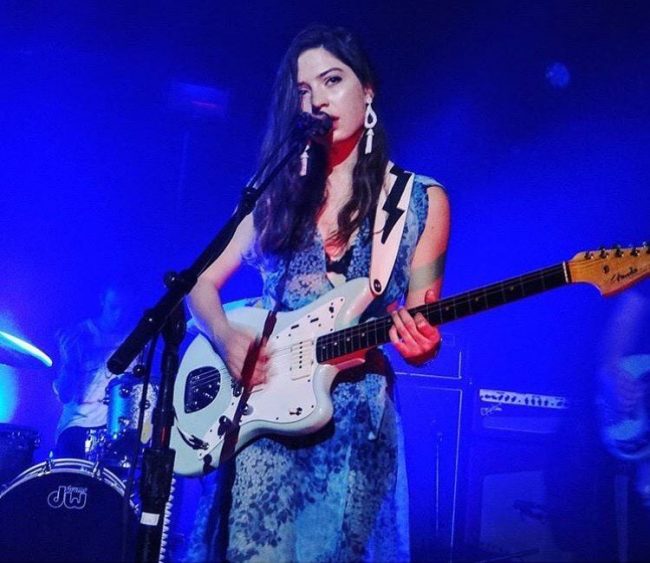 We have been fans of LA-based band Alyeska since early January 2016. Simply put, singer-songwriter-guitar-player Alaska Reid is one of the best new female musical artists on the scene. In addition to being a stentorian guitar player, Reid writes sterling melodies and affecting lyrics, and possesses one of the most nuanced voices in all of indie rock. In our interview with Reid for this article, she cited Joni Mitchell (her alternate-tunings in particular) as one of her guitar-player influences (together with J Mascis of Dinosaur Jr. and her uncle P.W. Long of 90s band Mule). But you can also hear Joni's effect (her mezzo-soprano inflections and vibrato) in Reid's alluring vocals (aided by Reid's classical and jazz vocal training). Combining Reid's teeming talents (she's also whip-smart and driven) with the other band members (original member Ben Spear on drums and, most-recently, multi-instrumentalist Wolf Woodcock) results in a powerful, artful ensemble. And on this year's superb Crush EP the band (sans-Wolf) was produced by perfectly-matched producer John Agnello (Dinosaur Jr., Kurt Vile, Phosphorescent, Hop Along, Alvvays, etc.). The result, in Crush's tracks and other songs, is a musical tour de force.
As mentioned above, after first floating on their song Medicine River, we next gave glowing reviews to Alyeska's exceptional EverGlow. And then earlier this year, the band released the eight-song Crush EP, with its Tilt-A-Whirl ear-worms and other guitar-strong songs such as the Replacements-inspired Motel State of Mind and Sister Buckskin. But the song that immediately collard [sic] us was the opener Ribs and Greens. We remain surprised that it hasn't been singled out by other critics. So here we go.
The song begins with Reid strumming in the key of Creedence/Marshall Tucker before her distinctive vocal and harmonies take over and take you back to her home in Montana. Asked about the song's lyrics, Reid told us the imagery came to her as she walked around her hometown, wistfully gauging the reflection of Christmas lights in windows and considering the changes observed in friends as contrasted with the static, rosy images held in her head. Reid also told us that the song's incantatory lines "I remember when 'meant-to-be' became coincidence" sings for both the dashed illusions of a broken relationship and of life itself. Regardless, it captures well life's intermittent lost lusters. A bubble bursts and you float away. Musically, Reid says the song is a composite of compiled riffs, as complemented mid-song by a guitar-jig lick she attributes to the country-influence of her uncle P.W. And we hear Agnello's production hand, like when he trickles in treacly triangle-like touches. In sum, the song endearingly taps into our (and your) nostalgic yearnings for places and people left behind. And musically it moves us on down the line. Listen to Ribs and Greens below. We dare you not to to punch the "Repeat" button.
Asked about future plans, Reid says there are new songs in the works and, though she wouldn't say with whom or when, the band's manifold options are currently being explored.  We expect an ever-glowing horizon and ever-growing future for Alyeska and the tremendously talented Reid. Check them out!
Ribs And Greens:
Ribs and Greens:
"I remember when, "meant to be,"
became coincidence.
It set me free
But you still scream through your teeth.
We were just kids who ate our ribs and greens
And now you, and all your friends,
just try to stay clean.
They try to stay, they try to stay.
And it was lonely that night
in the company of the Christmas lights.
In a feeling like a dream,
I saw you through the door screen.
Turned your eyes to look at me
and all I saw was what they were meant to be.
No, no worth to me, worth to me.
I remember when, "meant to be," became coincidence.
I remember when, "meant to be," became coincidence.
Oh I remember, I remember, I remember.
Oh, I remember, I remember, I remember, I remember."
Above photo by Lee Bedrouni