Watch Daniel Johnston and Famous Friends Perform on KCRW–Performing Tonight at the Orpheum in LA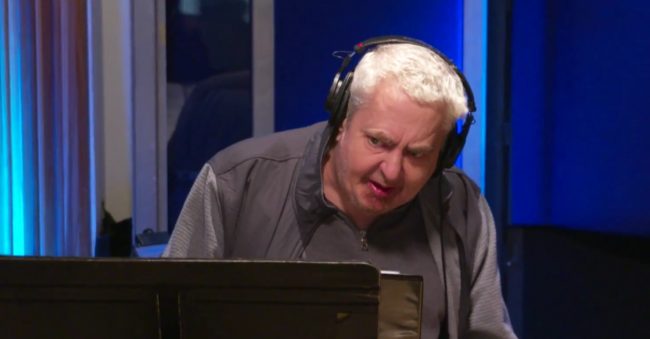 People love their ultra-polished music (guilty, at times). But oft-times its the un-polished portion that punctually pierces our musical hearts. This morning the gifted and famously "troubled" singer-songwriter Daniel Johnston appeared on KCRW's Morning Becomes Eclectic with his famous friends Mike Watt (bass), Ben Lee (acoustic guitar, vocals), Guy Blakesee (electric guitar, vocals), Maria Taylor (piano/keys, vocals), Joey Waronker (drums), Lucius (Jess Wolfe & Holly Laessig on vocals), and the Silver Lake Chorus (Heather Ogilvy, Kel Pritchard, Jen Daking, Erin Rye, Miles Hartfelder, Nicholas Pasqua, Ben Fordham, Sam Breslin, and Michael Wells). This uber-talented ensemble will perform with Johnston tonight at the Orpheum in LA.
While the entire MBE set was phenomenally captivating to listen to (listen HERE), it wasn't until we watched the visuals in the videos below that we really got a sense for what is going on here, which in a (overused) word is: magic. Watch 'em and weep. Step out into the light and rejoice! Wow!
In what is being dubbed as the "Final Tour" by Johnston, more West Coast tour dates can be found HERE.  Don't ya miss it.