David Byrne Remains Cheerful and Releases New Song "Everybody's Coming To My House" From New Album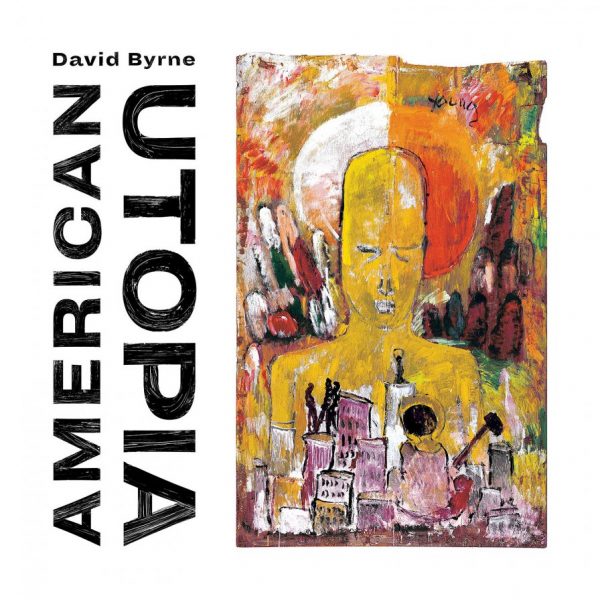 Where have all the hours gone? Gone to smoke, fire-storms, flu, a new year, flash-floods and mudslides everyone. When will we ever learn?
Weeks have fallen to a fire and flu haze, but we're making our way back.
David Byrne is a renewed and renewing inspiration. Ever since we first saw Byrne and the Talking Heads in that 200-person space in San Diego in 1978 (and every tour thereafter), we've drawn great inspiration from the artistry, entertainment, philosophy and humanity of David Byrne. Whether it's his music, his bicycle infatuation, his art, his philosophy or a thousand other reasons, we've continued to be drawn to Byrne and his offerings. He's never stopped making sense.
Despite (or because of) the political and cultural turmoil of late, and this life during wartime, Byrne has remained in the light and has been giving presentations entitled Reasons To Be Cheerful, about which Byrne has said:
"I began to look for encouraging things that are happening anywhere, and if they have been tested, if they have been proven to work, if they can be transferred and adopted in other places, if they can scale up—then let's hold them up for consideration, and let's invite others to add to this project. There are actually a LOT of encouraging things going on around the world—they've given me hope, and I'd like to share them." We're on the road to somewhere.
Continuing in this motif, Byrne has now announced his impending new album entitled American Utopia, which is his first solo album in 14 years. To introduce the album, Byrne has given us a video for the album's first song, Everybody's Coming to My House. The song was written with Byrne's foremost collaborator Brian Eno and features the up-and-coming Sampha, TTY and Happa Isaiah Barr from Onyx Collective.
Check it out below in all its polyrhythmic glow and recognizable Byrne patter and epiphanies. It's the Song of the Year so far.
Byrne said of American Utopia in a statement, "These songs don't describe an imaginary or possibly impossible place but rather attempt to depict the world we live in now. Many of us, I suspect, are not satisfied with that world—the world we have made for ourselves. We look around and we ask ourselves—well, does it have to be like this? Is there another way? These songs are about that looking and that asking. This album is indirectly about those aspirational impulses. Sometimes to describe is to reveal, to see other possibilities. To ask a question is to begin the process of looking for an answer. To be descriptive is also to be prescriptive, in a way. The act of asking is a big step. The songs are sincere—the title is not ironic. The title refers not to a specific utopia, but rather to our longing, frustration, aspirations, fears, and hopes regarding what could be possible, what else is possible. The description, the discontent and the desire—I have a feeling that is what these songs touch on."
We can't wait for American Utopia, which is out March 9th on Nonesuch Records. You can pre-order it HERE.
The album's tracklist and the song's lyrics are found below the video:
American Utopia tracklist:
1. "American Utopia"
2. "I Dance Like This"
3. "Gasoline And Dirty Sheets"
4. "Every Day Is A Miracle"
5. "Dog's Mind"
6. "This Is That"
7. "It's Not Dark Up Here"
8. "Bullet"
9. "Doing The Right Thing"
10. "Everybody's Coming To My House"
11. "Here"
Everybody's Coming To My House:
I wish I was a camera
I wish I was a postcard
I welcome you to my house
You didn't have to go far
A house and a garden
There are, there's plants and trees
Make a, a closer inspection
If you get, get down on your knees
Now everybody's coming to my house
And I'm never gonna  be alone
And everybody's coming to my house
And they're never gonna go back home
I'm pointing and describing
And I can be your guide
The skin is just a roadmap
The view is very nice
Imagine looking at a picture
Imagine driving in a car
Imagine rolling down the window
Imagine opening the door
Everybody's coming to my house
Everybody's coming to my house
I'm never gonna be alone
And they're never gonna go back home
We're only tourists in this life
Only tourists but the view is nice
And we're never gonna go back home
No we're never gonna go back home (all right)
We're only tourists in this life
Only tourists but the view is nice
Now everybody's coming to my house
And I'm never gonna be alone
And everybody's coming to my house
And they're never gonna go back home
Everybody's coming to my house
Everybody's coming to my house
I'm never gonna be alone
And I'm never gonna go back home